For years, there's been one name in the world of expensive wireless speakers that effortlessly fill your house with sound. But there's a new king on the block, and its name isn't Sonos.
German manufacturer Raumfeld has been around for a while in Europe, but it's only just getting around to doing North America properly. The company makes a whole catalogue of wireless speakers for your house, ranging from tiny kitchen units to big tower speakers for serious listening.
The one common factor — apart from the price tag, which is universally steep — is the lack of wires. All the speaker units connect to your home Wi-Fi, and using Raumfeld's excellent app, you can stream music from your phone or from all of the popular music streaming services.
DON'T MISS: One of the most popular Pokemon Go map trackers is being revived this weekend
We played with a bunch of Raumfeld's speakers, but the most interesting is the One M. It's an all-in-one 2.1 speaker, big enough to fill a large room with sound, but small enough to sit easily on a shelf. At $500, it's expensive for a single wireless speaker — equivalent-sized Bluetooth speakers cost more like $200 — but as I discovered, comparing it to a Bluetooth speaker is unfair for everyone involved.
Setting up things that involve words like "connected speaker" and "one-touch wireless setup" normally send me running for a preparatory beer, but the Raumfeld speakers are easier to set up than any smart-home device has the right to be. You download the iOS or Android app, turn the speaker on, press the dedicated setup button on the back, and then follow instructions on the screen.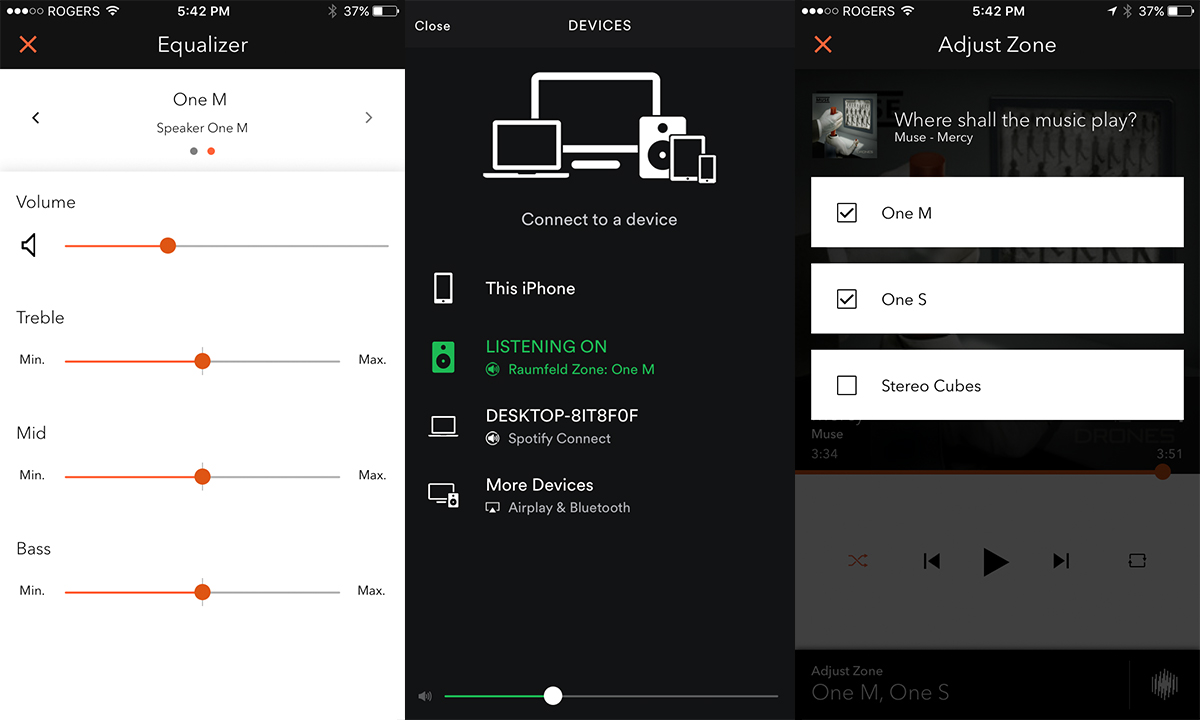 It takes maybe a minute — a little longer if there's a firmware update to install — and then you should be set up and ready to play.
You have three basic choices for music: wireless streaming from your phone, direct streaming from music services like Spotify or Apple Music, or old-fashioned line-in input. They all work equally well, but the real reason to buy these speakers is for the streaming audio support.
Currently, Raumfeld offers integration with Spotify, SoundCloud, TIDAL, Apple Music, TuneIn, WiMP and Last.fm. Chances are that if you pay for a music streaming service, it's one of those.
I've mostly been using the One M with Spotify, and the integration really shines. Once you have a Raumfeld "zone" set up — if you have multiple speakers, they can all be added to one zone — it appears as a device in Spotify's desktop and mobile apps. Just select the speakers, and music starts streaming out of them in seconds.
It's quick and easy to use, and works even faster than something like the Chromecast Audio. Within the Raumfeld app, you also have options to mess with the relative volumes from different speakers, so you can have the living room speaker much louder than the one in your kitchen, if you want.
You can control music playback from within the Raumfeld app, but most of the time, I only duck into the app to change the volume of a specific speaker or to change the zone. The rest of the time, I just switch to the One M from within the Spotify app.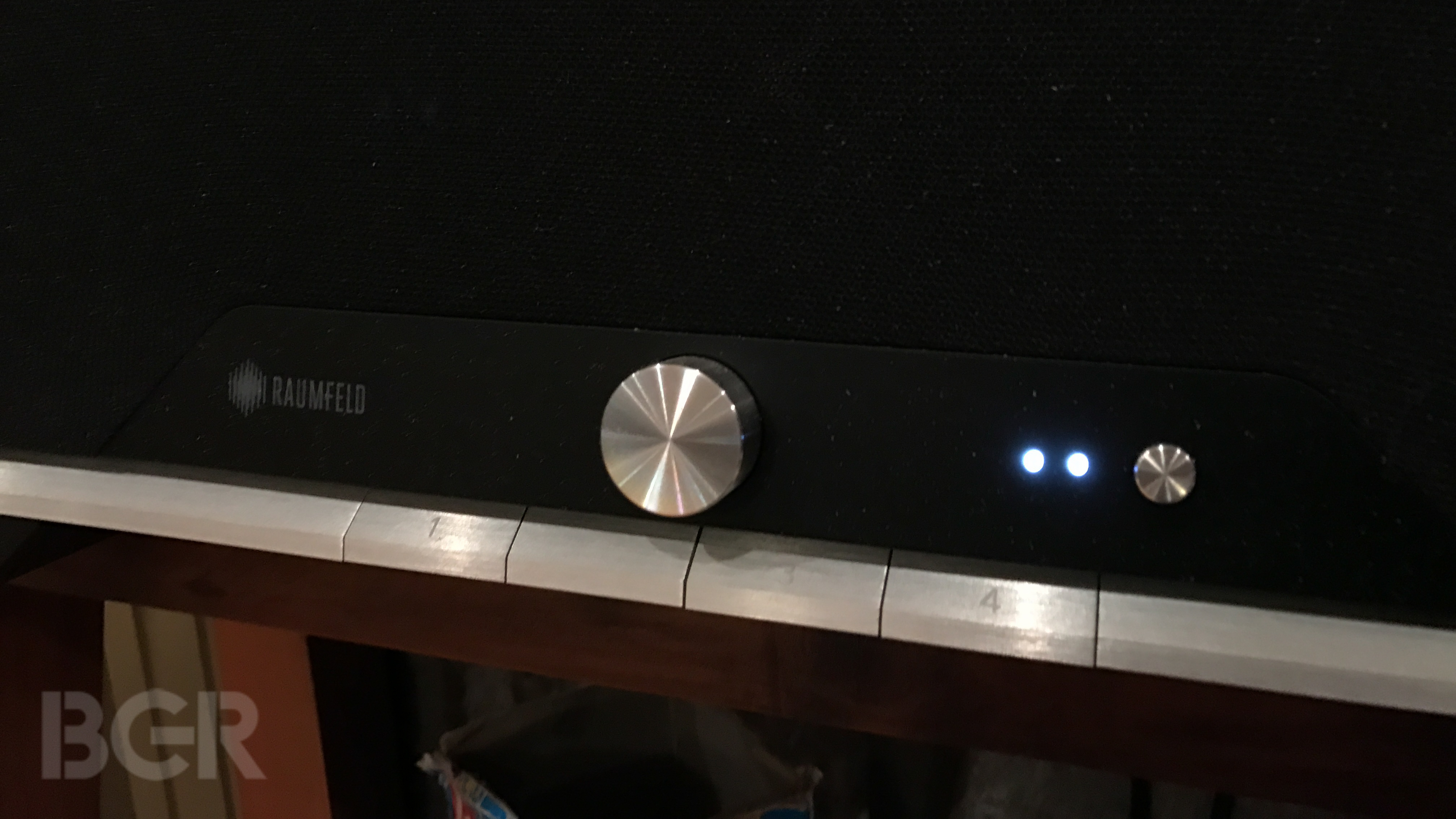 All of the apps in the world are all well and good, but a $500 speaker needs to perform. Luckily, whoever designed the Raumfeld nailed it. The sound quality is impressive at the low and high end, and far better than any single bookshelf speaker has a right to be.
That's a product of the intelligent design, which tilts the speaker back a little so the mid-range drivers are firing up a little, and the subwoofer has an air gap at the bottom of the speaker. The result is a room-filling sound that doesn't sound distorted, or like it's really having to work. In a large living room and kitchen that's about 1,000 square feet, the One M fills the space without being strained.
I'm not certain it would singlehandedly do for a loud party, but if you pair it with a second smaller speaker like the One S, I need hearing protection before the sound runs out.
But where the One M really shines is at lower volumes. Despite being a single speaker, it provides a decent stereo-wide effect even at lower volumes, and the music still has precision and clarity even when you don't crank the volume.
The physical design is understated in a good way. There's a throwback to older speaker designs, with thin metal and physical knobs used to good effect. It doesn't look out of place next to my 1980s amplifier, and whether that's a good or bad thing probably depends on your opinion on interior decorating.
So overall, we have a speaker that's a little on the expensive end, but makes up for it with great software, superb integration with streaming services, and better sound than a unit that small should have. But how does it compare to Sonos, the reigning king of wireless home speakers?
Well, the equivalent to the One M is the Sonos Play 5, which normally sells for around $500. I've found the sound quality to be similar: extremely well rounded and surprisingly room-filling, although I think the Raumfeld does a better job of filling the space at lower volumes, so it's a better speaker for ambient music.
But where the One M — and Raumfeld's system in general — really shines is the software and the app. I still think Sonos's interface is a little clunky and convoluted. By contrast, everything with the Raumfeld system is quick to set up, intuitive to use, and well laid out.
That's the thing. If you're buying into a wireless speaker system in the first place, it's probably because you hate wires and mess and fuss and knowing how to set up X with Z. On the important metric of "which system would I tell my dad to buy," the Raumfeld wins it hands-down.