President-elect Donald Trump has said time and again that he wants to convince Apple to make iPhones in America. At least some of them. Talking to Apple CEO Tim Cook about the matter after his big win, Trump reiterated his desire to see Apple manufacture products in America. While it's too early to actually see an iPhone made in America, there's one more sign that such a move might actually be possible.
Trump on Tuesday met Masayoshi Son, the head of Japan's SoftBank Group, who later announced a commitment to invest $50 billion in America and create more than 50,000 jobs. But that's not the only Asia-based tycoon looking to expand to the US. Foxconn, the company that manufactures the iPhone in China for Apple, is apparently in preliminary discussions to expand its US operations.
DON'T MISS: Amazon's 12 best daily deals: Black Friday returns for one 4K TV, deep Apple Watch discounts, more
Trump took credit for Softbank's deal, saying that it's a direct result of his election win. According to Reuters, the $50 billion deal announcement prompted speculation that Softbank is eying a Sprint-T-Mobile merger again.
"Ladies and gentlemen, this is Masa from SoftBank of Japan, and he's just agreed to invest $50 billion in the United States and 50,000 jobs," Trump said.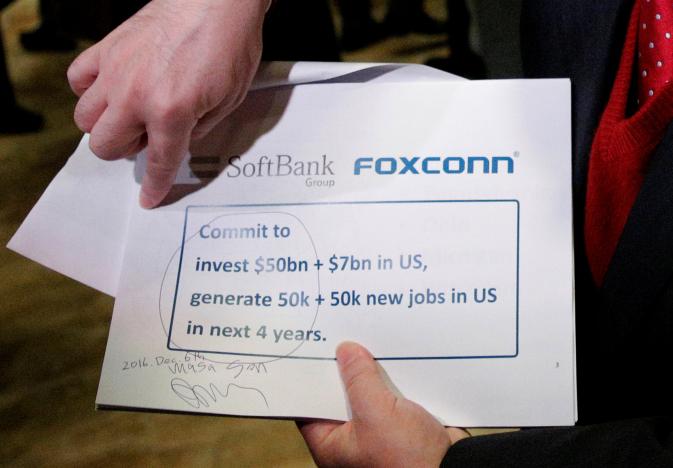 A photo taken after the meeting showed that Foxconn also might be willing to invest $7 billion and create an additional 50,000 jobs in America. But Foxconn has not confirmed the figures.
"While the scope of the potential investment has not been determined, we will announce the details of any plans following the completion of direct discussions between our leadership and the relevant US officials," a Foxconn statement said.
Son and Foxconn founder Terry Gou are considered close, Reuters says, and have joint business ventures. Foxconn already has manufacturing facilities in the US in Virginia and Indiana, and logistics services in California and Texas.
https://twitter.com/realDonaldTrump/status/806214236053667842