When Android fans learned that Google's upcoming new Nexus phones wouldn't actually be Nexus phones at all, speculation began running wild. Google would reportedly partner with HTC to produce two new phones, which obviously sounds suspiciously similar to the setup Google has had for years with its Nexus lineup. But the Pixels, according to rumors, would be designed by Google from start to finish, as is the case with Google's Pixel-brand Chromebooks.
Some Android fans hoped aloud on forums and social networks that Google's new Pixel phones would be powerhouse Google devices that set the bar for Android handsets, but a new leak suggests that won't be the case.
MUST SEE: iPhone 7 vs. Galaxy Note 7 speed test: This is just embarrassing…
Is the Nexus brand dead? Will Pixel replace it? We won't know until Google unveils its new Pixel and Pixel XL smartphones, and that reportedly isn't happening until next month. But in the meantime, leaks continue to help paint a more complete picture of what we can expect from Google's next-generation pure Android devices. Sadly though, it's not all good news.
Apart from the fact that Google's two new Pixel phones look a bit ugly in the renders we've seen so far, it now appears as though these new handsets won't offer the top-of-the-line performance many Android fans had been hoping for. In fact, new leaked benchmark test results that reportedly came from a Geekbench test run on a Pixel XL suggest that the phone won't even come close to competing with flagship handsets from the likes of Apple, Samsung and Huawei.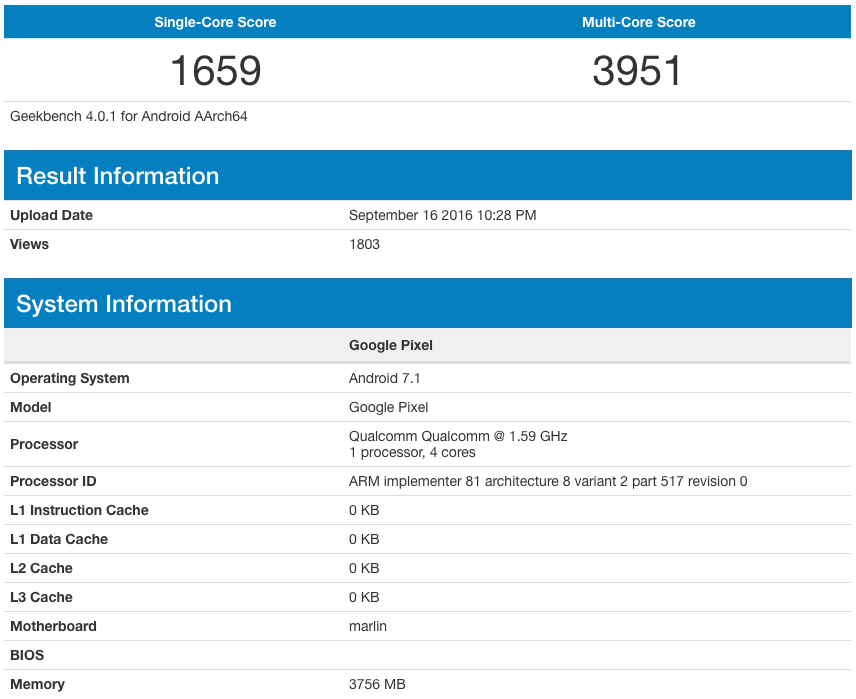 Performance test results for the "Marlin," which is believed to be the codename for Google's upcoming Pixel XL phablet, were spotted on Geekbench by gadget blog WCCFtech. They show a single-core score of 1659 and a multi-core score of 3951. Those aren't terrible scores by any means, but they're not even in the same league as flagship phones from companies like Apple and Samsung. The Galaxy S7 managed a single-core score of 1806 and a multi-core score of 5228, while Apple's new iPhone 7 scores a ridiculous 3360 and 5354, respectively.
Google is expected to unveil its new Pixel and Pixel XL smartphones early next month before launching them a few weeks later.