It's quite clear that we're approaching Google Pixel 2 season, as the leaks have intensified. A recent image leak showed us the purported design of the Pixel 2 XL, while a pair of case leaks showed protective gear for both the smaller Pixel 2 and the larger Pixel 2 XL.
A designer created a new render based on these rumors, and the image indicates that there's really just one Pixel 2 version to buy this year.
Unlike their predecessors, the new Pixel phones won't share the same design or specs, as several reports have mentioned. That's not great news for anyone looking for a compact Pixel design that would sport the exact same specs as the phablet version.
But as soon as you see the following image, you'll start questioning your need for a compact Pixel.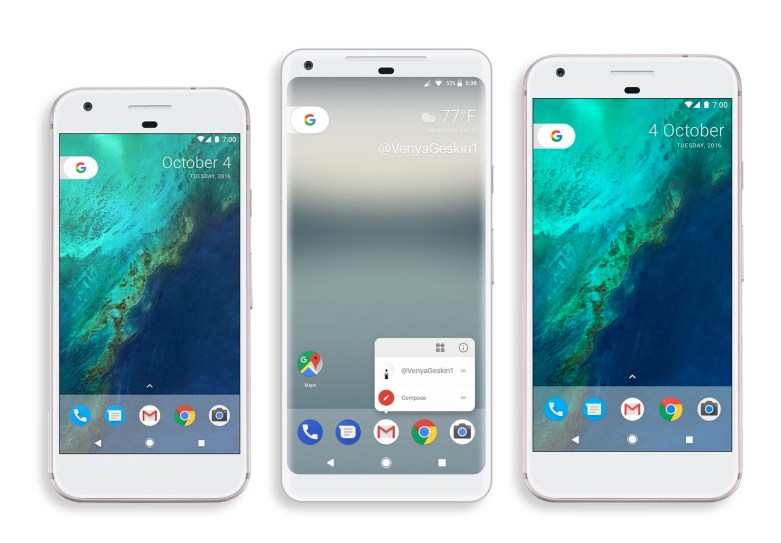 Made by Benjamin Geskin, the image shows a Pixel 2 XL flanked by last year's Pixel and Pixel XL. The Pixel 2 XL, assuming this design is based on accurate information, will be almost as big as the Pixel XL. But it'll feature an all-screen design complete with smaller top and bottom bezels that will remind you of phones like the Galaxy S8 and the LG G6. The Pixel 2 XL's display alone is about as big as the original Pixel.
Sadly, the Pixel 2, which is rumored to be made by HTC, will not receive a similar treatment when it comes to design. Rumors say the Pixel 2 will inherit the Pixel's iPhone design. But HTC's phone won't go the extra mile, so don't expect it to feature an almost bezel-less screen.
The Pixel 2 phones should be unveiled in late September or early October, which means there's plenty of time for more leaks.