Announced in early 2007 and launched exactly 10 years ago today, the original iPhone was perhaps Apple's biggest gamble. Steve Jobs and Co. took a massive risk by launching a smartphone unlike anything available on the market, but it all paid off. The iPhone quickly turned out to be the device that would reshape the mobile industry. Thanks to the iPhone's emergence, Android was retooled to fit a touchscreen-based smartphone future. Meanwhile, traditional smartphone makers including Nokia, BlackBerry, Palm, and Microsoft, had to throw in the towel at various points during the iPhone's 10-year history.
Here are the 15 iPhones that Apple launched in these first 10 years.
Apple doesn't use a traditional numbering scheme for the iPhone. We're currently on iPhone 7/7 Plus, but that doesn't mean Apple only launched 7 different iPhone models. Comparatively, Samsung's Galaxy S8 is the eighth Galaxy S flagship from the company, and the main Android-based iPhone rival.
It all started with the iPhone, followed by the iPhone 3G (June 2008) and iPhone 3GS (June 2009). The iPhone 4 (June 2010) brought a new design that was to be used by the iPhone 4S (October 2011) — the latter was also the first iPhone to launch in the fall, something Apple stuck with to this date.
The iPhone 5 (September 2012) saw a new design change. Then, for the first time in the iPhone's history, Apple introduced two new models at the same time, the iPhone 5S and iPhone 5C (September 2013).
The trend followed a year later, which brought us the first iPhones that were bigger than Apple's tried and tested 3.5-inch and 4-inch models, the iPhone 6 and iPhone 6 Plus (September 2014).
The iPhone 6s series followed a year later (September 2015). In March 2016, Apple broke its September iPhone launch pattern by refreshing the 4-inch iPhone, which was sold as the iPhone SE.
Last September, the iPhone 7 and iPhone 7 Plus were launched, the 14th and 15th iPhones in Apple's smartphone-making history.
A graphic showing the evolution of the iPhone at a glance follows below, via The Korea Herald.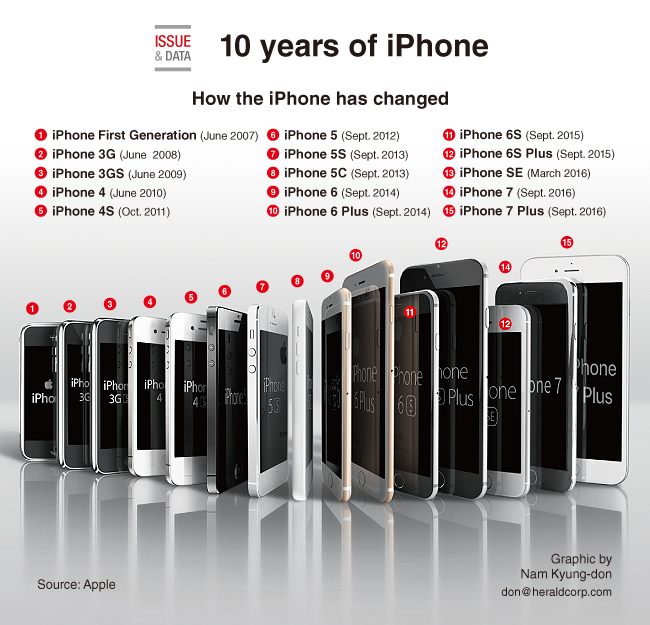 Apple is expected to launch three new iPhones this year, which will bring the total number of iPhones to 18. One of them, the iPhone 8, is supposed to be the flagship iPhone of 2017, and an excellent way to celebrate 10 years of iPhone.