Almost all Android device makers other than Samsung copied the iPhone X's notch this year, while simultaneously looking for ways to create all-screen phones without notches. We've seen slider phones appear where the selfie cam can pop out whenever it's needed, and we've seen phones with a single camera module placed on the back of the phone, alongside a secondary display that you'd use for taking selfies and making video calls.
Samsung has recently unveiled the Infinity-O screen that we'll see on the Galaxy S10 next year. The Korean Android vendor also unveiled its first-ever foldable phone, which is one other way to increase the size of a smartphone's screen without using a notch.
But all these notch screen alternatives do lose one major feature: The sophisticated Face ID camera that needs a bunch of components to perform 3D scans of your face. Apple is likely looking to place all of those components under the screen, and thus kill the notch without abandoning the authentication feature. And so is a Chinese smartphone maker, which is also working on a foldable handset of its own.
The news comes from Dutch blog AndroidWorld who sat down with Oppo at one of its headquarters in Shenzhen, China. Oppo said that it's working on a foldable handset that may be unveiled as soon as next February, without revealing any details about it: "We know that brands such as Samsung and Sony are working on a foldable phone," Oppo product manager Chuck Wang told the blog. "You can also expect more news from OPPO, perhaps at MWC."
Wang also said that Oppo is looking at placing the selfie camera under the screen, with the technology expected to be ready by 2020. A well-known Samsung leaker said a few days ago that the technology is not mature yet, offering the same estimate for phones with in-display cameras.
What's more interesting is that Oppo is also looking at doing the same thing with the dot projector and the IR scanner. Here's a reminder of where those components are found inside the iPhone X notch: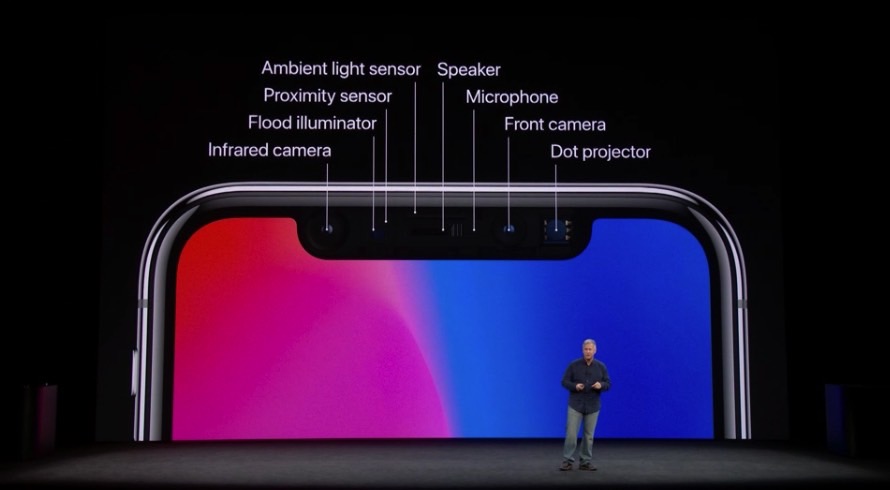 Placing the dot projector and infrared sensor under the screen would be a massive breakthrough for smartphone design. Once that happens, phones with notch-less all-screen designs and Face ID support will be possible.