The OnePlus 6T is just a couple of weeks away, which explains the deluge of rumors these days. Only last week we saw hands-on images showing a device that looked a lot like the OnePlus 6T, although we told you at the time that it could always be the Oppo R17 Pro, the phone the new OnePlus 6T is based on. In the meantime, the press renders of the OnePlus 6T were leaked, practically confirming the similarities between the new Oppo and OnePlus handsets.
A steady source of accurate leaks lately, WinFuture's Roland Quandt, shared the images below: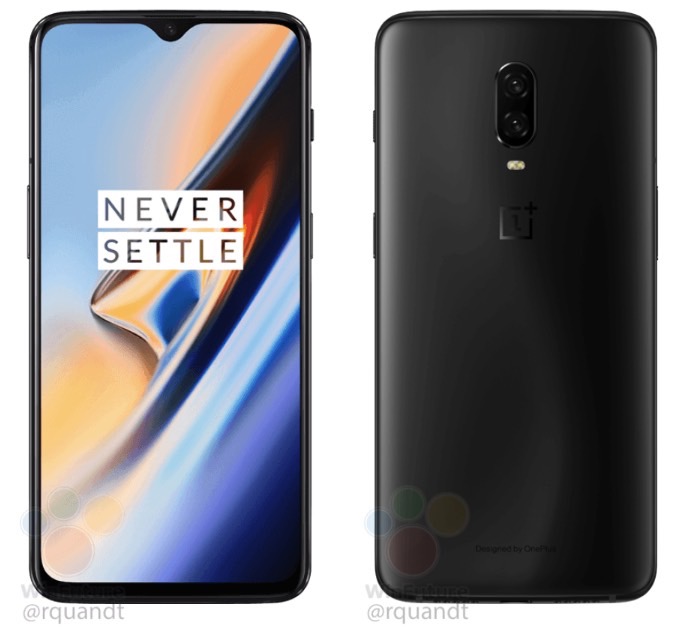 As you can see, the OnePlus 6T will have an all-screen design similar to the Oppo R17, complete with a tiny notch at the top for the selfie cam, and a small bezel at the bottom. A fingerprint sensor is also placed beneath the display, a feature OnePlus already confirmed.
The company also mentioned a few days ago that the phone won't have a 3.5mm headphone jack, a first for OnePlus. As you can see in the renders, no audio jack is visible. The absence of the headphone jack will allow OnePlus to improve battery life on the phone, and a recent leak already revealed the handset will rock a 3,700 mAh battery, or 400 mAh more than the OnePlus 6's battery.
On the back, we only have a dual-lens camera, compared to the triple-lens shooter on the R17, and the OnePlus logo.
Other than the design changes above, the OnePlus 6T should be fairly similar to the OnePlus 6 in terms of hardware. Expect a Snapdragon 845 processor, paired with up to 8GB of RAM, and storage options going at least up to 256GB.
OnePlus will unveil the handset on October 17th, and launch it in several markets in the following weeks. T-Mobile will sell the phone in the US, marking OnePlus's first carrier partnership in the States.