The OnePlus 6 may be an iPhone X clone, but the handset isn't expected to borrow one particular iPhone design element: the lack headphone jack. Apple ditched the 3.5mm audio port back in 2016 so the iPhone X doesn't have one, but the 2018 OnePlus 6 is still expected to support the connector.
However, a new report says that OnePlus may nonetheless offer customers standalone wireless headphones, which would be a first for the company.
There's no denying that the AirPods are incredibly popular with consumers to the point where others have been inspired to replicate them. Huawei just unveiled a pair of wireless headphones that looks very much like the AirPods. Google, meanwhile, has its own take on wireless headphones, as does Sony and Samsung.
What will OnePlus do? A Bluetooth listing discovered by Nashville Chatter Class mentions OnePlus Bullets Wireless headphones, which support Bluetooth 4.1 connectivity. The documentation was filed on Wednesday, apparently.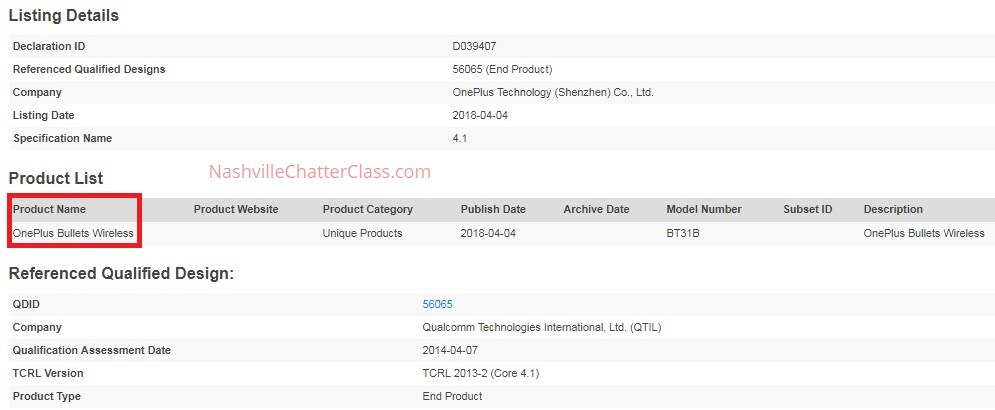 That's pretty much all we know about the device that's registered for a OnePlus Technology company from China. Unless this is a fake, it sure looks like OnePlus may soon unveil a pair of wireless headphones of its own.
It's not unreasonable, however, to expect OnePlus's Bullets Wireless headphones to look just like the wired ones.
It's unclear how much the wireless headphones would retail for, but we do expect the wired Bullets headphones to stay in stock. They currently sell for $19.95 and come bundled with various accessory packs.
OnePlus is expected to announce the OnePlus 6 by the end of April — here's what we know so far about the handset — in which case we'd expect the wireless headphones to be unveiled at the same event.
The headline of this article has been updated.