We heard for a while that the OnePlus 5 will not be as cool as the Galaxy S8, and OnePlus CEO Pete Lau apparently confirmed on Weibo that the next OnePlus flagship won't be able to compete against Samsung's best new phone feature.
There's no question that the Galaxy S8's Infinity display sets the phone apart from anything available from the competition. Sure, the LG G6 also has a great all-screen display, but it's the Galaxy S8 seems to be the winner when it comes to display design so far.
The OnePlus 5 will have a fingerprint sensor on the front, Lau said, which means the OnePlus 5 can't also feature an all-screen design. It's unlikely that OnePlus will include the sensor under the OnePlus 5's display, given what we've heard about the phone so far. A recent report claimed the OnePlus 5 will be more expensive than its predecessors. That might be one other reason to buy the Galaxy S8 instead.
Interestingly, Lau posted his comments on Weibo from a OnePlus 5 device, according to the following screenshot, saved by GizmoChina.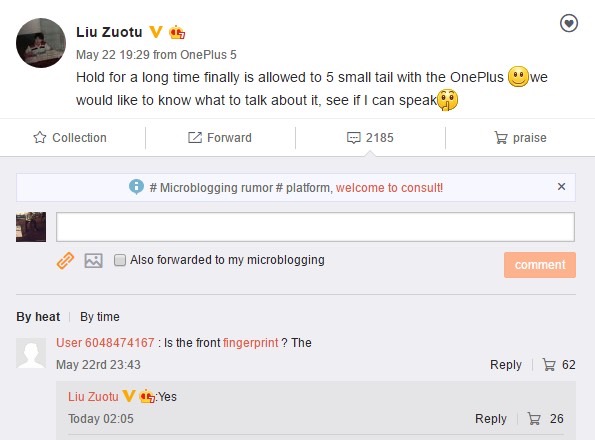 A different OnePlus exec, who recently posted a blurry image of the OnePlus, teased on Twitter that the headphone jack will be moved to the other side of the phone. That's top placement for the 3.5mm jack instead of the bottom, as it was the case before, Carl Pei seemed to imply.
Why did the headphone jack cross the road? https://t.co/8sSXI8zB8y

— Carl Pei (@getpeid) May 19, 2017
Looks I gotta be more careful with my tweets… 😕 https://t.co/JSOhurrze2

— Carl Pei (@getpeid) May 22, 2017
Finally, OnePlus also posted a teaser on its official account that concerns color options for the upcoming OnePlus 5, including a multicolored version:
What 5hould the color of your next phone be? 😉 pic.twitter.com/5FevP1VSq5

— OnePlus (@oneplus) May 22, 2017
OnePlus is yet to announce a launch event for the handset.