The Nokia 8 Sirocco is definitely one of the most interesting phones coming out of MWC 2018. For starters, it's an Android One-branded phone, which is an exciting proposition, as it should help Nokia deploy faster Android updates than before. At least, we hope so.
On top of that, it's got a gorgeous design that will remind you of the Galaxy S9, and top of the line specs. But there's one thing that's very wrong — okay, not very wrong, but a tiny bit disturbing — for a 2018 Android flagship. It comes with a Snapdragon 835 processor, which just doesn't cut it anymore. However, a new leak says there's a Nokia 8 Pro in the works that fixes everything.
Posted on HowToTechNaija a few days ago, the following specs list says the Nokia 8 Pro will pack a Snapdragon 845 chip, which is Qualcomm's flagship mobile platform for this year's flagship Android devices. It's the same chip used in Galaxy S9 versions and in the Xperia XZ2 series, phones that were also unveiled in Barcelona this week.
The report also says the phone will have a 6-inch display with 2160 x 1080 resolution, 6GB/8GB of RAM, 64GB/128GB of storage, dual 16-megapixel rear camera, 13-megapixel front camera, 4,000 mAh battery with wireless charging, USB-C port, and Android Orea under the hood. 

That's even better than the Sirocco, which packs a 5.5-inch display, 12-megapixel and 13-megapixel cameras on the back, a5-megapixel selfie shooter, and 3,260 mAh battery.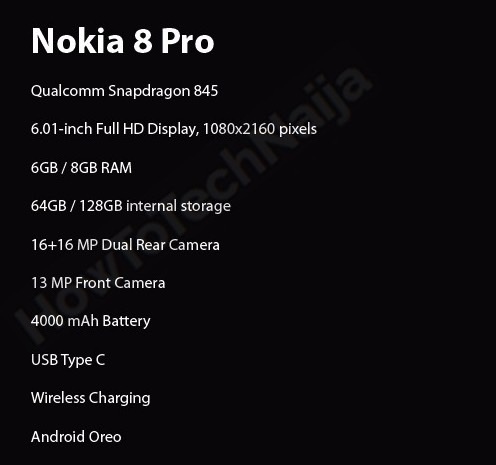 The source adds that the Nokia 8 Pro might be launched in the third quarter of 2018. Be advised, however, that we're still looking at a rumor. While the specs list makes sense for any kind of 2018 Android flagship, it's still unconfirmed.