With June just around the corner, we're inching ever closer to Tesla kicking off mass production on the highly anticipated Model 3. Barring any unforeseen developments, Tesla is still planning to begin Model 3 mass production in July, followed by deliveries to early reservation holders towards the latter half of 2017. Of course, given Tesla's track record, it wouldn't surprise anyone if the first Model 3 deliveries don't actually begin until mid-to-late December.
That notwithstanding, Tesla currently has all hands on deck as the company continues road testing Model 3 release candidates with increasing frequency. Indeed, there's a reason that we seemingly can't go a few days without new photos of a Model 3 emerging online. And while the overall design of the Model 3 is more or less locked in, the interior of the Model 3 remains something of a mystery. While Tesla showed off the Model 3 interior when it unveiled the vehicle last year, the overall design was curiously sparse, with no instrument cluster to be found.
In the weeks and months that followed, speculation regarding Tesla's plans for the dashboard grew out of control, with many anticipating that Tesla would incorporate an advanced HUD of some sort. Alas, the Model 3 dashboard will not be the futuristic masterpiece many were hoping for. Earlier this year, Musk said that the need for an instrument cluster is not as important on a car that can drive itself.
The more autonomous a car is, the less dash info you need. How often do you look at the instrument panel when being driven in a taxi?

— Elon Musk (@elonmusk) March 24, 2017
Even if we give Tesla a pass for that design decision, there's no getting around the fact that the Model 3 interior, as we saw it last year, was excruciatingly dull and boring.
The good news is that the final version of the Model 3 will sport a more elegant fit and finish, or at the very least, allow Model 3 customers to pay extra for a nicer interior. While we'll have to wait until July to see what the shipping version of the Model 3 will look like, new Model 3 spy shots obtained by Electrek showcases an interior with wooden trim. Without question, the design below is far more elegant than the design we originally saw last year.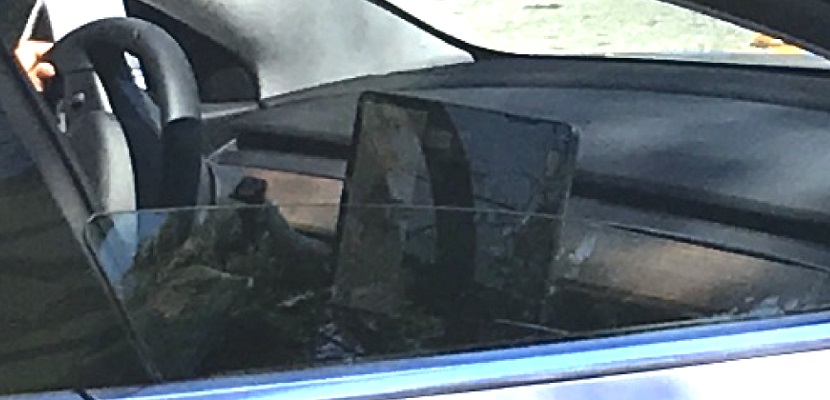 Meanwhile, the same Tesla enthusiast who took the photo above took this quality shot of a Model 3 around Tesla headquarters.
One design tweak on the Model 3 that remains to be seen is what Tesla has planned for the steering wheel. Recall that Musk last year said it was going to "feel like a spaceship."
@HBL_Cosmin Wait until you see the real steering controls and system for the 3. It feels like a spaceship.

— Elon Musk (@elonmusk) April 3, 2016