While phishing campaigns from spammers and scammers used to be pretty easy to identify, efforts to trick unsuspecting users into giving up sensitive information have only grown more sophisticated in recent years. The latest email scam making the rounds specifically targets Netflix subscribers and is particularly clever, which is to say that it's especially dangerous. According to a report from Deadline, scammers are firing off emails with the subject line "Your suspension notification" to masses of people. When a curious user naturally opens up the email, they're presented with a link that redirects to a dummy Netflix page where they're instructed to enter their login credentials along with their credit card information.
The email aggressively targeted Netflix growing 110 million subscriber base, and as can be seen below, it's easy to see how an average user might be tricked believing the message truly originated from Netflix. The look and feel of the email is decidedly Netflix inspired and, equally as important, the email itself isn't suspiciously forceful or coercive. Indeed, the tone and diction of the message are on par with legitimate emails typically sent out by subscription based companies when a credit card is unable to be processed.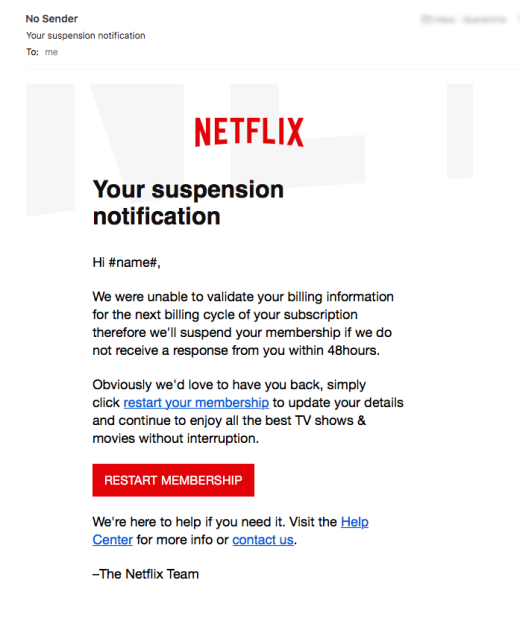 Incidentally, this isn't the first time scammers have targeted Netflix subscribers with a phishing campaign, but this appears to be the most sophisticated and well thought out effort we've seen yet. As a quick example, a similar email which made the rounds a few months ago seems more overtly fake with the "Account Disabled !" title at the top.
There's a @netflix scam now happening. Don't fall for it! pic.twitter.com/5V3J6NBS1Y

— 🕷 (@JesykaDereta) September 26, 2017