Due to a myriad of thorny licensing issues, the selection of Netflix content available to viewers can sometimes vary wildly from country to country. While Netflix's selection of original programming is typically available everywhere, the same can't be said for licensed TV shows and movies. As a quick example, a 2016 analysis of movie options available on Netflix across regions revealed that the U.S. and UK both house a relatively small number of films that appear in IMDB's list of the top 250 movies of all time.
Indeed, one of the benefits of Netflix's big push into original content is that its growing base of worldwide viewers can access much of the same content at the same exact time. Still, given that the vast majority of content on Netflix remains a mix of licensed TV shows and movies, Netflix subscribers in some countries have it better than others.
That said, ChampionTraveler recently took a look at Netflix content catalogs across the world and discovered that Japan currently has the largest selection of Netflix content available anywhere in the world, even eclipsing the U.S. All told, Netflix in Japan boasts 6,340 distinct titles while Netflix in the U.S. boasts 5,600 distinct titles.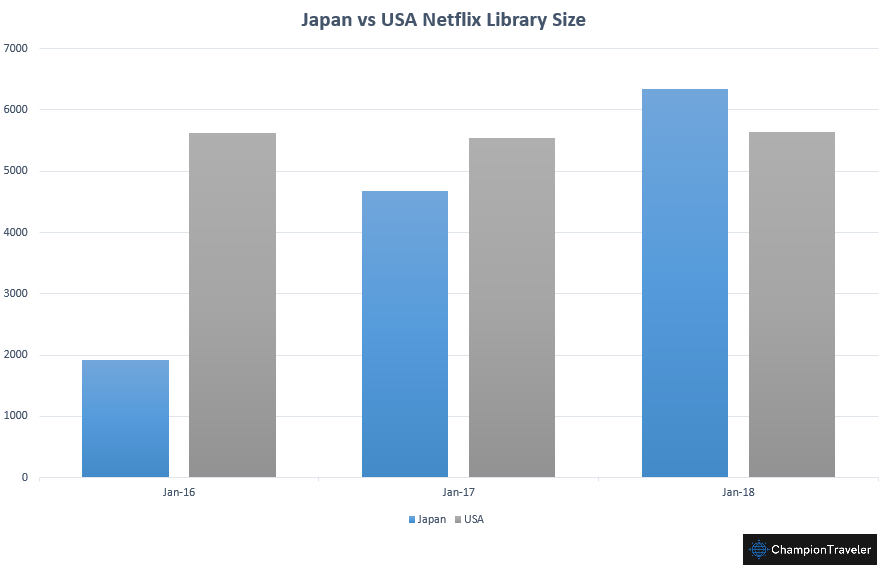 "Most other countries have been doubling and even tripling in their Netflix title counts," the report further adds, "but with the exception of Japan, most are still below 5,500 while the US seems to be holding steadily."
Incidentally, Netflix is planning to spend upwards of $8 billion on content throughout 2018. And though the bulk of that money will be for licensing existing content, Netflix will continue churning out more original content than most viewers can realistically keep up with.