In an industry where it's practically impossible to keep anything a secret, Lenovo managed to surprise most people when it unveiled the Moto Z and Moto Z Force last month. These new phones featured gorgeous new designs and cutting-edge specs, and they also outdid LG by introducing a better modular accessory system than the one on the LG G5.
I finally spent some time with both new phones this morning and I can already say that they live up to the hype… and then some.
MUST SEE: Look at this new leaked photo and tell me which phone is hotter than the iPhone 7
Lenovo announced the new phones' specs back in June so we already know what the handsets pack inside. Highlights include a 5.5-inch AMOLED display with 2K resolution, a Snapdragon 820 processor, 4GB of RAM, 32GB or 64GB of storage, microSD support, a 13-megapixel rear camera with optical image stabilization, a 5-megapixel front-facing camera and Android 6 Marshmallow.
Long story short, they line up with every other flagship Android phone out there.
The real story here is the design of both the hardware and software. The Moto Z — or "Moto Z Droid," as the Verizon version I played with is called — is insanely thin. At just 5.2mm, there is no flagship phone on the planet that can touch it. The handset feels absolutely amazing in the hand; such a thin housing also makes the 5.5-inch phablet far more manageable.
The Moto Z Force Droid is thicker than the regular Z at 7mm, but that added thickness comes with a huge advantage: the Z Force is far more rugged thanks to its "shatterproof" display. I put shatterproof in quotes because no glass is truly shatterproof, but there's precious little doubt that Lenovo has come closer than any smartphone maker before it to achieving the impossible. I dropped the Z Force Droid repeatedly onto a metal slab and a wood floor from a distance of about 6 feet, and it came away looking like nothing even happened.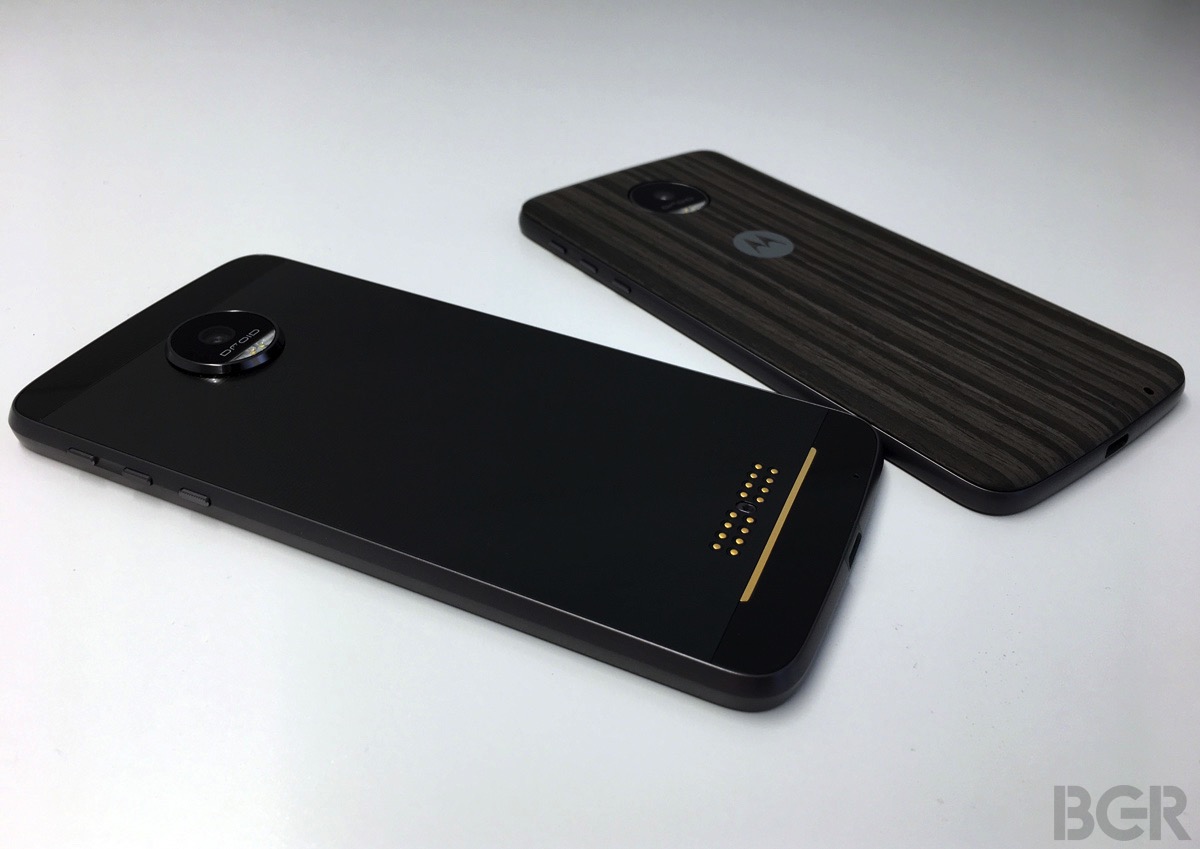 That shatterproof display could definitely come in handy for people who buy into the Moto Mod modular attachments Lenovo will sell alongside its Moto Z phones, because I already dropped the phone once while prying a projector attachment off the back of it. The Moto Z and Z Force use strong magnets to fix Mods to their backs. It makes for a strong bond that won't accidentally separate, but it also means the Mods can be tricky to remove.
Lenovo will also offer case backs that use the Mod mechanism to attach — you can see a gorgeous wooden one in the image above.
Where the software is concerned, Lenovo continues to keep Android very clean on its Moto phones. Yes, since these are Verizon handsets there are plenty of Verizon apps pre-installed, but Marshmallow shines on these handsets and it'll feel nice and "pure" to hardcore Android fans.
I didn't spend enough time with these phones yet to test some of Lenovo's other impressive claims, such as the one stating the phones' new fast-charging tech can soak up 15 hours worth of battery life in just 15 minutes. Lenovo also hasn't yet announced any launch details for the new phones, but we do know that they'll initially be Verizon exclusives in the US.