A Model X owner in Florida recently crashed his Tesla SUV through a wall of an Anytime Fitness gym after barreling through an empty storefront, according to a report from ABC Action News. The crash itself happened over the weekend and though there were members working out at the time, it appears that both the driver and gym patrons did not suffer any injuries.
That's the good news. The bad news is that a Tesla crash is in the news yet again. Though perhaps not fair given that there are an estimated 15,000 car accidents every day, the reality is that nearly every accident involving a Tesla tends to make national news, if only because of public skepticism regarding Tesla's somewhat controversial Autopilot feature.
As to the crash at hand, the driver of the Model X claims that she pressed on the gas, only to have the car abruptly accelerate. Tesla will undoubtedly check the logs to see what exactly was going on in the moments preceding the crash.
In the interim, gym footage of the Model X crashing through the wall has been made public and, suffice it to say, it's quite harrowing. As evidenced below, the Model X nearly hit a gym-goer who was casually getting off of a treadmill.
A photo of the aftermath can be seen below.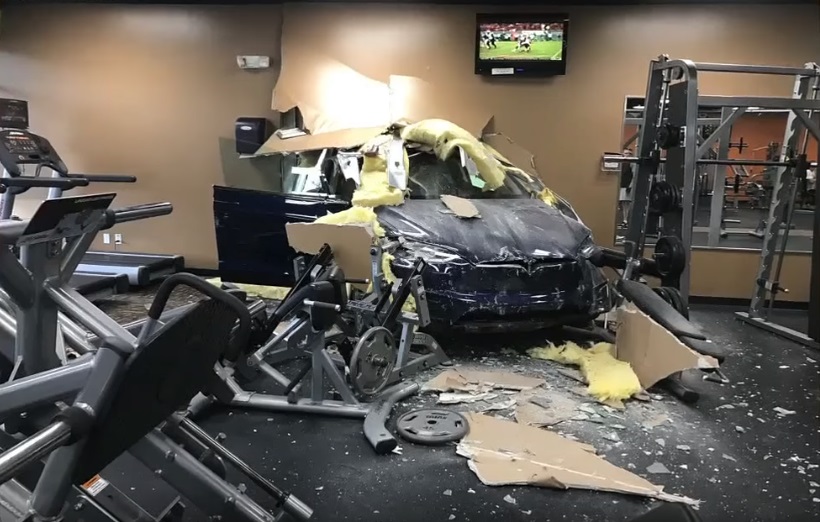 Given the circumstances of the crash, many people are of the mind that the driver simply stepped on the wrong pedal.
For what it's worth, this isn't the first time we've seen a story regarding a Model X that allegedly accelerated for no reason. Just a few months ago, for example, a famous South Korean actor sued Tesla claiming that his Model X accelerated for no reason as he was parking his car in his garage, with the car ultimately crashing through the garage wall and into the man's house.
Notably, Tesla, upon looking at the car's logs, determined that the driver "pressed the accelerator pedal all the way to 100 percent."