Deliveries of Tesla's Model S and Model X during the second quarter of 2017 weren't as strong as some analysts were anticipating, with the company announcing that it delivered 22,000 vehicles over the last three months. The figure was a tad lower than the 25,000 vehicles Tesla delivered during the first quarter of 2017. Still, the 22,000 vehicles Tesla delivered during Q2 marked a 53% increase compared to the same quarter a year-ago, an impressive feat no matter how you look at it. What's more, demand for Tesla vehicles during the quarter remained robust, with the company explaining that a production issue involving its 100 kWh battery packs led to delayed deliveries and a delivery figure that was lower than some were hoping for. All told, Tesla during the first half of 2017 delivered 47,100 vehicles, a figure it said it will likely eclipse during the latter half of 2017.
Nonetheless, Goldman Sachs earlier this week downgraded Tesla amidst fears that demand for the company's Model X and Model S may have already peaked. In a note obtained by Business Insider, analyst David Tamberrino writes:
We believe the excess production above deliveries, the discontinued 'order rate' metrics, and the company's 2H17 guidance (Model S and Model X deliveries to likely exceed) in combination with the past four quarters of delivery results point to a plateauing of demand for its current products.
In turn, Tamberrino placed a $180 price target on Tesla shares, a uniquely pessimistic projection given that Tesla shares are currently trading in the $300 range. Following Tamberrino's report, shares of Tesla plummeted by more than 50 points.
Funny thing is, if we take a look at Model S sales exclusively, a different narrative emerges. As highlighted by Zachary Shahan over at Clean Technica, Model S sales are particularly impressive when measured up against other luxury sedans.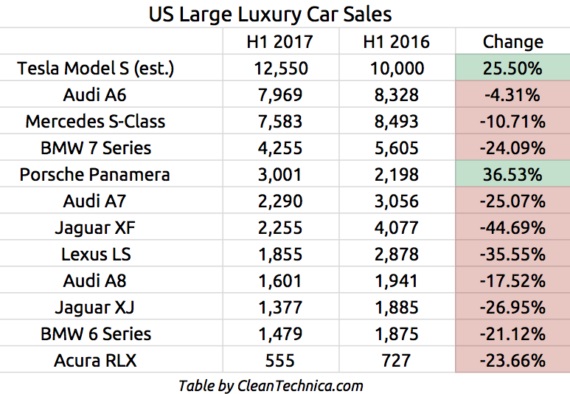 "Another dramatic point from the table and chart above is how far ahead the Model S seems to be," Shahan observes. "Even if you add up Audi A6, Audi A7, and Audi A8 sales, they don't get up to the Tesla Model S sales estimate for 2017. It looks even worse for the old automakers if you add up BMW 7 Series and Mercedes-Benz S-Class sales. Adding up Audi A6 and Mercedes-Benz S-Class sales is the only way to actually get two models to surpass Model S sales."
Indeed, the notion that demand for current Tesla vehicles has plateaued seems a bit misplaced. Especially in a field littered with industry veterans, the ability for Tesla to sell more Model S vehicles than more established luxury cars is truly remarkable. And besides, with the Model 3 release looming on the horizon, it stands to reason that Tesla's best days are ahead of it.
As a final point, it's worth noting that most Tesla sales shortfalls typically have nothing to do with demand but more to do with Tesla's ability to furnish supply, a good problem that most other automakers would love to have.