As was the case with last year's LG G6, the new LG G7 ThinQ is perhaps the most uninspired Android flagship phone of the year so far. It slaps Apple's iPhone X display design onto a Google-powered smartphone, just like dozens of other Android phones right now, and it doesn't really pack any features that might help it stand out from the crowd. Fortunately for LG fans, the company has plenty more in store for us in 2017, and a huge leak has seemingly just exposed five different upcoming LG smartphones that are set to be released in the coming months. And yes, that includes the company's somewhat hotly anticipated V30 successor, the LG V35 ThinQ.
The LG V30 isn't selling by the millions like Apple's iPhones and Samsung's latest Galaxy S smartphones, but it has managed to attract a loyal following of Android fans who are looking for something a bit different from the phones everyone else carries. It's a flagship phone on par with any other top Android phone from 2017, and it also has a big, beautiful display.
In 2018, LG will follow up the V30 with its new LG V35 ThinQ flagship phone. And now, thanks to a report from South Korean digital trade publication etnews (via GizmoChina), it appears as though the V35 ThinQ's release timing, specs, and even price have been revealed.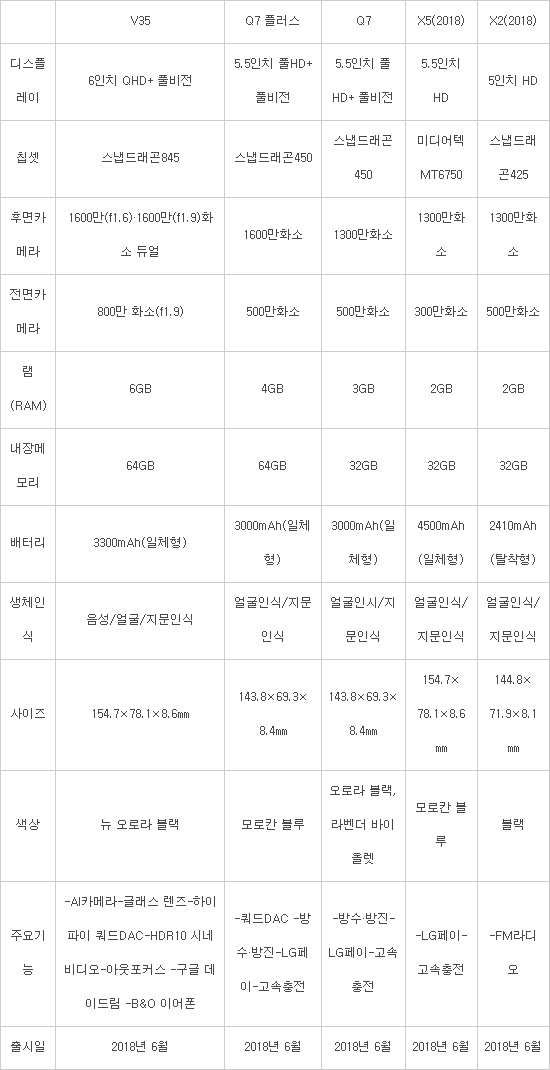 Set to debut in June, the LG V35 ThinQ will supposedly feature a Qualcomm Snapdragon 845 chipset and a large 6-inch OLED FullVision display with QHD+ resolution. And guess what, Android fans: the display won't have a notch. Dual 16-megapixel cameras will reportedly be found on the back of the V35, and it'll sport the same AI camera features as the G7 ThinQ. Other specs include fingerprint, face, and even voice biometric authentication, a Hi-Fi Quad DAC, and far-field voice recognition for hands-free access to a voice assistant. The V35 ThinQ will apparently be priced at 898,700 won in South Korea, which is about $830.
According to the leak, four other LG smartphones will debut in June alongside the V35 ThinQ. The LG Q7 and LG Q7 Plus will be ruggedized smartphones with MIL-STD-810G impact resistance and IP 68 dust- and water-resistance. They'll both feature Snapdragon 450 chips, and Hi-Fi Quad DACs. The Q7 will sport 3GB of RAM and 32GB of internal storage, while the Q7 Plus packs 4GB of RAM and 64GB of storage. Interestingly, considering the "Plus" moniker, both phones will sport the same 5.5-inch HD+ LCD display and the same 3,000 mAh battery. In this case, the "Plus" indicates a better spec'd model, including the aforementioned memory advantages and a 16-megapixel rear camera in place of the Q7's 13-megapixel camera. In South Korea, the Q7 and Q7 Plus will be priced at 400,000 won (approx. $370) and 500,000 won (approx. $462), respectively.
At the bottom of the pile we have the upcoming LG X2 and LG X5 smartphones, which are also set to debut next month. The LG X2 will feature a 5-inch HD display, Snapdragon 425 processor, 2GB of RAM, 32GB of storage, 13-megapixel rear camera, 2,410mAh battery, and a price tag of 200,000 won (approx. $185). The LG X5 will sport a 5.5-inch HD display, a massive 4,500mAh battery, a MediaTek MT6750 processor, 2GB of RAM, 32GB of storage, a 13-megapixel rear camera, and a price of 300,000 won (approx. $277).