Apparently it's a bad week to be a Lamborghini owner. Just a few days after a Lamborghini Huracan wedged itself underneath a parked Honda Civic, a $400,000 Lamborghini Performante caught fire at a Missouri gas station following a bizarre sequence of events. As you'll see below, there was no chance to salvage the car as it was completely engulfed in flames and ultimately became nothing more than a piece of scrap metal.
Here's how it all went down. A pair of Lamborghinis pulled into a gas station this weekend after previously participating in the Goldrush Rally. With both drivers inside of the gas station to purchase some water, a nearby minivan inadvertently started to drive off with the fuel pump hose still connected. In short order, the hose broke and the pump began spraying gasoline every which way, including onto the Lambo's engine bay.
In a Facebook post form Parker Gelber — who was one of the drivers — 911 was called immediately, but not soon enough to prevent the blue Lambo from being destroyed. The red Lamborghini in front of it emerged unscathed, though it was covered in ash when all was said and done.
Gelber's Facebook post reads in part:
While talking to police and firefighters a man ran up and said he saw what happened. He was recording the cars to show his friends and caught a guy driving off with a gas pump still in his car. The pump sprayed fuel directly into the blue Huracan's engine bay and it instantly ignited.

Police found the guy that did it and everything will be taken care of. Just thankful we all got away safe and it didn't escalate into a bigger fire. No one was in the cars at the time.
Here's a shot of the Lamborghini mid-burn.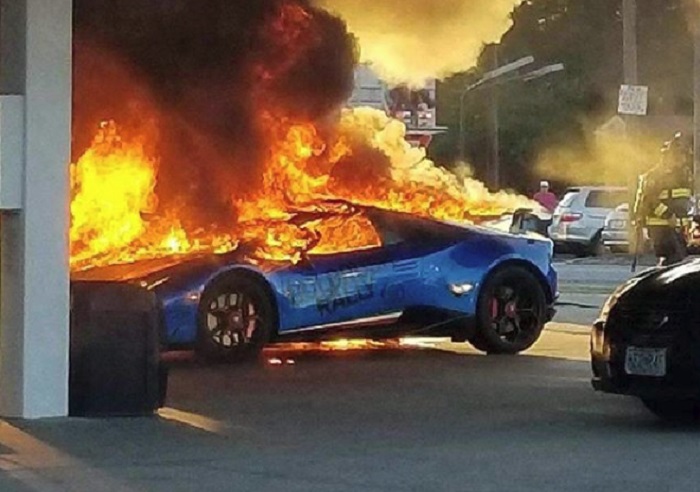 And this is what the car looked like after the fact.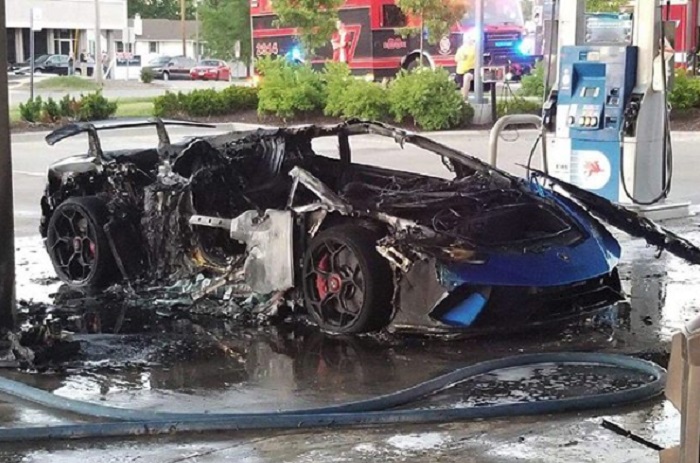 A news report which features video of the two cars before the incident can be viewed below.