The iPhone X launch weekend is beyond us, and we can safely conclude it was a massive success for Apple. There were impressive queues around the world, and the iPhone X is still sold out online, although Apple stores will get more stock on a daily basis.
That said, Apple will not tell us how many iPhone X units it sold, but the first estimates are already here, and it looks like it's great news.
Localytics, the same analytics company that provided launch details about previous iPhone models, including the iPhone 8 pair that hit stores in late September, is out with iPhone X estimates:
Coming in at 0.93% of the total market share after the first weekend puts the iPhone X ahead of the 0.7% first weekend adoption for the iPhone 8 models, but still below the 2.3% market share that the iPhone 6 models grabbed back in 2014 and the 1.3% and 1.2% adoption experienced by the iPhone 6S and 7 models in 2015 and 2016.
The company says that looking at percentages alone doesn't tell the full deal, as there are a lot more iPhones in the market now than in 2014.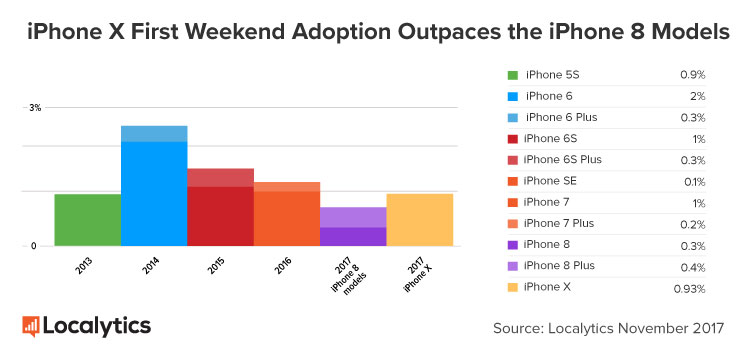 Furthermore, Apple sold out its iPhone X stock within minutes on preorder day, with many buyers having to wait for weeks to get their hands on one. It's likely Apple would have sold even more iPhone X units had there been more stock to go around.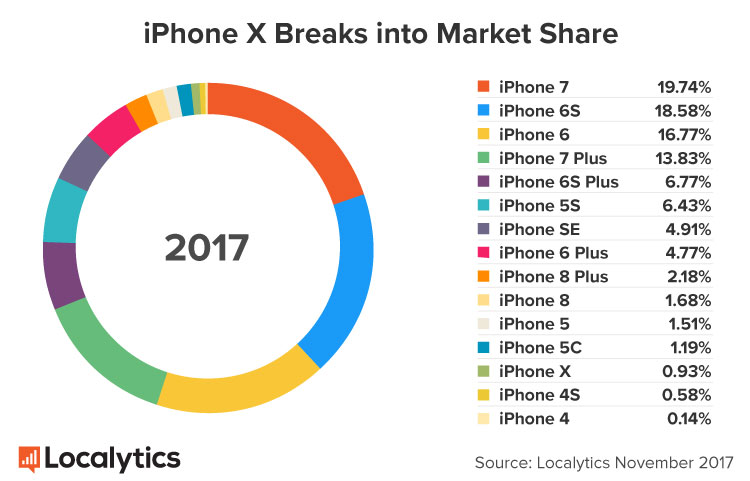 Apple last week also said it expects record-breaking revenue for the Christmas quarter, and iPhone X sales should represent a large chunk of that monster revenue.