The iPhone X is indeed the most expensive phone you can buy right now, and not all buyers are happy about that, even if there will be ways to lower the entry price.
Regardless of how expensive it is, especially in international markets, where buyers will pay more than $999 for the cheapest option, the iPhone X is still seen as the main smartphone sales growth driver next year.
The researchers from Gartner say that mobile phone sales are expected to return to year-over-year growth next year, with shipments totaling 1.9 billion units. Smartphones will account for 86% of those, up 6% compared to 2017. 

The iPhone X is expected to sell very well next year in various key markets, including North America, China, and Western Europe. "Given the late November availability of the iPhone X, we expect the iPhone's replacement cycle to flow more strongly into 2018," Gartner research director Robert Cozza said.
A report the other day said that Apple may reach its iPhone X production goal for 2017, but that doesn't mean it'll meet consumer demand this year.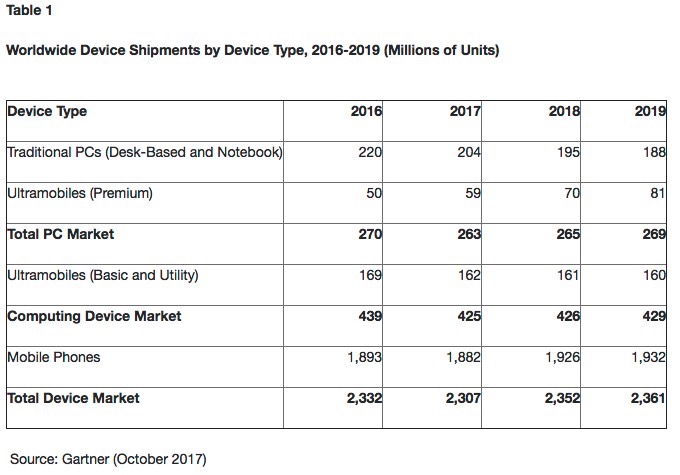 Gartner also said that worldwide device shipments will increase 2% next year, which will be the highest year-over-year growth since 2015. Some 2.35 billion devices should be sold next year, including the 1.9 billion mobile phones mentioned earlier but also tablets and computers.

The research note says that PCs will return to growth by the end of 2017, and should grow 0.8% next year. However, it's smartphone sales that will represent the major growth for computing devices. "Users holding onto their PCs for longer remains a major issue for the PC market. In contrast, users continue to replace their smartphone quite frequently," Gartner research director Ranjit Atwal said.
The iPhone X will be available for preorder on October 27th, and it'll hit stores a week later, on November 3rd.