Apple's iPhone X release date is fast approaching, with preorders set to kick off in just over one week on October 27th. The hotly anticipated tenth-anniversary iPhone will then be released on November 3rd, when tens of millions of people around the world will hope to take delivery. Of course, only a small fraction of those people will actually manage to get their hands on a new iPhone X anytime soon, but that's an entirely different story.
Pent-up demand for a redesigned iPhone has made Apple's iPhone X the most sought-after smartphone of 2017. The new design is sleek and modern, with beautiful stainless steel and glass construction highlighted by a class-leading all-screen design. I'm excited and millions of other iPhone users are as well, but Apple's "all-screen" design is something of an issue for many users. In short, they hate the notch.
Once Apple figures out how to embed its new TrueDepth camera and sensor array behind the iPhone's display, people will get the all-screen design they really want. In the meantime they'll live with the notch, like it or not. A mysterious new smartphone just leaked, however, and it appears to have the design that notch-haters wanted. Is it really any better? Let's take a look.
If you live in the United States, you've probably never heard of a smartphone maker called Meizu unless you're an enthusiastic gadget fan. The China-based company is a sizeable player in the global smartphone market, however, with smartphone shipments that surpassed the 20 million mark in 2016.
Meizu has some interesting smartphones in its lineup, like this one with a secondary display on the back of the phone. But now it looks like the company is working on a handset that's even more interesting.
Meizu is apparently developing a new smartphone with a modern all-screen design, and it looks like it may have one of the most impressive screen-to-body ratios on the market. The company chose to keep a home button beneath the display, likely with an embedded fingerprint scanner, but there are almost no bezels on the sides of the screen.
Up top, we see a bezel that is a bit wider than it is on the sides, but it's still extremely small. This is the design a number of Apple fans say they would have preferred Apple use on the iPhone X, rather than the "notch" design Apple ultimately went with. So, is the notch-free look any better? The leaked photo from Chinese micro-blogging site Weibo can be seen below. You tell me… is it any better?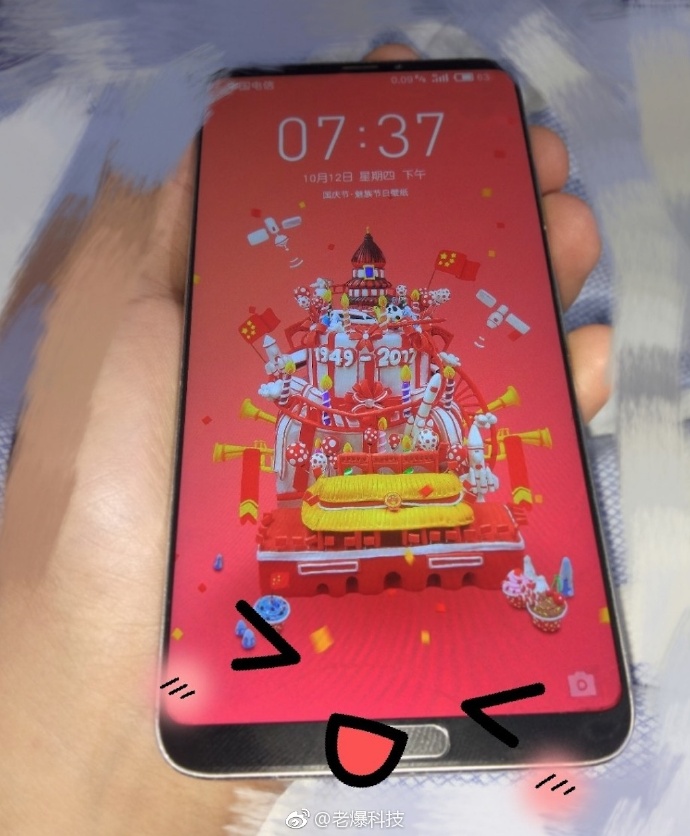 The iPhone X's notch is not optimal. It's also a bit unsightly in my opinion, and in the opinions of plenty of other people out there. But it's the kind of thing people will get used to fairly quickly — especially when there are tens of millions of iPhone X handsets floating around in public in a few months.
After looking at the leaked Meizu phone above, I'm not sure a design with asymmetrical bezels above and below the screen would have been any better. In fact, since Apple's brilliant engineering allows the iPhone X display to reach all the way to the bottom of the phone, a design like the one above probably would have looked much worse.