Every single iPhone announcement for the past decade has been met with responses that can only be described as mixed. Apple fans go crazy over Apple's new designs and new features, giddy as they chat about why each new iPhone is the best smartphone the world has ever seen. Naysayers proudly proclaim that Apple's new iPhone models are boring, or that the company is just playing catch-up with rivals. Everyone is entitled to his or her opinion, of course, but it's hard to argue that Apple isn't at least doing something right. iPhones have comprised the world's best-selling line of smartphones for as long as most people can remember, and no phone maker enjoys higher rates of customer satisfaction or customer loyalty.
On Tuesday, Apple unveiled the iPhone X, it's most radically different iPhone since the first iPhone was introduced in 2007. As such, it stands to reason that many people were taken aback by the phone. There's a lot to digest and the iPhone X won't be released until November, so negativity will undoubtedly continue to swirl until people can actually get their hands on the phone, as is always the case. But there's already some good news: Two iPhone X issues that people — myself included — complained about the loudest on Tuesday aren't as bad as we thought they were going to be.
The iPhone X, pronounced "iPhone Ten," was one of three new iPhone models Apple debuted on Tuesday. Though the iPhone 8 and iPhone 8 Plus are impressive as well, the iPhone X is the device that stole the show. It features a bold new design, a modern OLED screen, glass and stainless steel construction, and several exciting new features. Indeed, Apple's new iPhone X is shaping up to be THE phone to beat for the next 12 months.
But not everyone was impressed. In fact, there are some features of the phone that people are downright angry about — and the phone's "notch" is definitely at the top of the list. It's hideous.
The technology needed to embed things like cameras, light sensors, and speakers beneath a display isn't yet ready to be mass-produced, so Apple was left with a quandary. It could either make the bezels around the iPhone X's display wide enough to house the speaker and True Depth camera system, or it could take a notch out of the phone's screen.
Now, there were two ways to approach the iPhone X's already-infamous notch. The only content of any value that ever appears in the "ears" on either side of the cutout is from the status bar. There is no reason — I repeat, no reason — to ever allow graphics from videos, photos, or app interfaces to spill over onto the ears. With that in mind, Apple could have left the background on the ears black to blend in with the bezels, and cut off the rest of the UI below. I've discussed this option a number of times here on the site, and you can see how great it would've looked in my article from back in June.
The other option was to do what Apple did, which was to simply shuffle status bar info and let the rest of the UI spill over onto the ears. People all over social media have been going crazy over this design decision, and I agree. It's ugly. It's the worst thing about the iPhone X. But the good news is Apple knows that it compromised by going with this design, and there are already signs that the company is well aware of the fact that it's unbecoming.
Check out this tweet:
Fear not iPhone X buyers — the notch can be excluded while viewing videos in landscape mode! 🙌🏽https://t.co/DOptvaJIve pic.twitter.com/xRXJQgLMLT

— Rahul Mangalore (@Rahul_Mangalore) September 12, 2017
One of the most aggravating things about the notch is that it takes a big bite out of photos, videos, and games displayed on the screen. Look at this: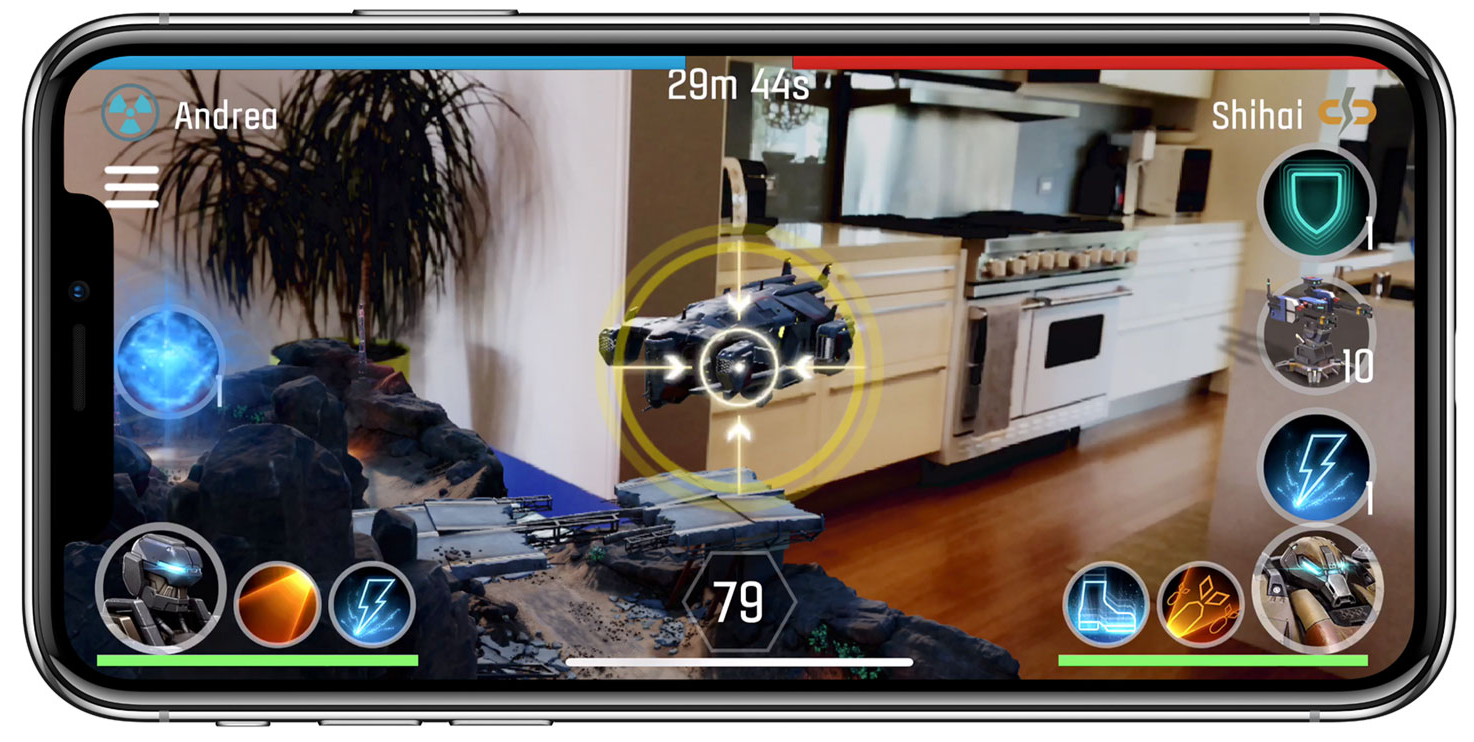 I don't know about you, but when I watch videos or play games, I like to, you know, see the whole screen. As noted in the tweet above, however, videos are not an issue — they can be de-notched. Where games are concerned, it will be up to the developer to work around it, though Apple has made it seem like it reeeally wants developers to embrace the notch.
The ability to watch de-notched videos wasn't immediately apparent and it might seem trivial to avid Apple fans who think any UX decision Apple makes is the correct decision. But it's a big deal. Multimedia consumption is a huge part of the smartphone experience. Some people watch more video on their phones than on TV. And the notch on the iPhone X actually blocks content. That's ridiculous. Imagine a huge notch cutting off a chunk of your television's display.
The other big change on the iPhone X that has ruffled a ton of feathers is the removal of Touch ID, which has been replaced by Face ID.
Now, Face ID is a bit difficult to discuss at this point since almost no one outside of Apple and the bloggers and reporters at the press conference on Tuesday have tried it. If we ignore Federighi's botched demo and take Apple execs at their word, we can expect Face ID to be at least as reliable as Touch ID, which is the best and most reliable biometric authentication technology on any smartphone right now. Even still, Face ID as demoed on stage on Tuesday is nowhere near as fast or convenient as Touch ID.
When I take my iPhone 7 Plus out of my pocket, it's unlocked long before it gets anywhere near my face. My thumb depresses the home button as I lift the phone out of my pocket or off of a table, and the home screen is ready to rock by the time the screen enters my line of sight.
Face ID seems far less convenient. In all the demos we've seen, the user has to lift the iPhone X directly in front of his or her face in order to unlock the phone. That's a big step backward. But check out this pair of tweets from iMore's Rene Ritchie:
https://twitter.com/reneritchie/status/907724899904512001
https://twitter.com/reneritchie/status/907734434756956160
For those looking for convenience and who aren't afraid that an agent of the state is lurking around every corner waiting to break into their iPhones, this is good news. I haven't tested it myself, but it sounds like disabling these settings could lead to having Face ID work as I hypothesized earlier this month. You pick up the phone and by the time it gets into your line of sight, it's already unlocked.
Apple's iPhone X won't be released until November 3rd, so there will be plenty more revelations between now and then as developers pick apart iOS 11. Try to keep that in mind before you get too worked up over what we've seen thus far.