If you don't like spoilers, you're going to absolutely hate this article and you should stop reading right now. Why? Because the world's top Apple insider just issued a new report that details every major new product the company plans to release between now and the end of the year. We're talking everything from new iPhones and iPad Pros to redesigned Apple Watches and even a new MacBook Air. It's all covered in this new report, leaving nothing to the imagination.
So once again, if you want anything to be a surprise that Apple unveils on stage later this summer at its big September press conference, you should go ahead and stop reading right now.
Ming-Chi Kuo is a name that Apple fans around the world will be quite familiar with. He's the top Apple insider on the planet, having built a long reputation of accurately leaking Apple's plans long before new products are announced. In fact, he's so accurate that dozens of other Apple analysts out there essentially make a living by reiterating everything Kuo reports. As reliable as he is, it's actually not a terrible strategy.
Kuo, who recently left KGI Securities to join TF International Securities, sent a new note to clients on Tuesday detailing Apple's plans for the remainder of 2018 and beyond. As is always the case when he sends new notes to clients, he also sent it to a handful of Apple news blogs including 9to5Mac.
In this new note, Kuo began by reiterating information he reported earlier about Apple's 2018 iPhone lineup, which he again says will include three new models. An updated 5.8-inch OLED iPhone will replace the current iPhone X, and the analyst has previously said will start at $899, a $100 discount compared to Apple's current model. The $999 price point will then be occupied by a new 6.5-inch "iPhone X Plus" with an OLED screen. But the biggest news might be the new 6.1-inch iPhone that Kuo says will have an LCD display with the same design as the iPhone X. This model will feature less impressive specs, as we've covered numerous times in the past. Kuo now thinks it could start at between $600 and $700, which would make the phone far more accessible than Apple's current models.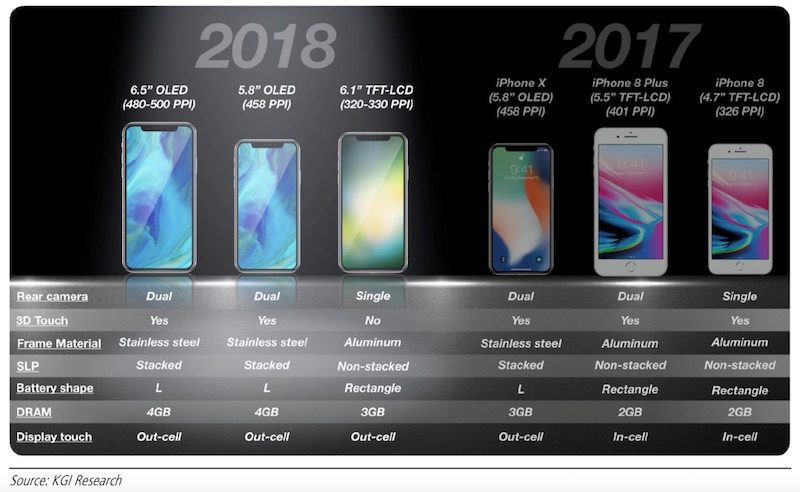 Elsewhere in Apple's 2018 product lineup, Kuo says Apple will release new iPad Pro models with Face ID instead of Touch ID. This has been rumored in the past, but it seems far more likely now that Kuo has chimed in. The analyst says Apple is also planning a new MacBook Air model for 2018 with a lower price point. And finally, he wrote that new Apple Watch Series 4 models will be released this year with larger OLED displays.
As a final tidbit, Kuo mentioned that next year's new iPhone models will feature "marked innovations," though he offered no details as far as what those innovations might be. He said Apple's 2019 iPhone designs likely won't be finalized until September or October this year, but that at least one model will likely still feature an LCD display. Also of note, Kuo wrote that one of Apple's 2019 iPhone models might feature a triple-lens rear camera, which is something we've seen rumored before.