Ever since 2014 when Apple finally relented and gave iPhone users the bigger screens they had been clamoring for, I've been waiting for mobile tech to progress to a place where the perfect phone size is finally possible. In 2014 (and 2015, 2016, and 2017, since Apple reused the same iPhone designs four times), Apple had to include great big bezels around its iPhone displays in order to pack in all the components the phones needed. As a result, I found the company's 5.5-inch "Plus" iPhone models to be far too big to be used comfortably. Meanwhile, the screen on the 4.7-inch iPhone models was too small.
Last year, Apple finally had the technology it needed to build an iPhone where almost the entire face of the handset was occupied by the display. With this design, Apple is able to make the iPhone any size it wants without worrying about a thick bezel. The 5.8-inch display on the current-generation iPhone X is a great size on paper, but the phone's ridiculously narrow 19.5:9 aspect ratio makes it far less enticing. In fact, the iPhone 8 Plus' 5.5-inch screen actually has more surface than the iPhone X's 5.8-inch display.
Will Apple ever make a phone that's just the right size? Rumors suggest that 2018 is indeed finally the year when Apple will release a perfectly sized iPhone. Unfortunately, a new report seems to reinforce the notion that Apple's perfectly sized iPhone won't be the flagship "iPhone X Plus" everyone has been waiting for.
A fresh report out of Japan on Tuesday morning claims to reveal an important detail about Apple's upcoming "iPhone X Plus." The name iPhone X Plus is in quotes, by the way, because that's what everyone is calling Apple's forthcoming supersized iPhone X successor, but that's absolutely not what the new phone will actually be named.
Apple is expected to release three new iPhone models this coming September, and the new high-end phone is expected to be a Plus sized version of Apple's current-generation iPhone X, but with upgraded internal components as well. The world's top Apple insider Ming-Chi Kuo has long said the phone will feature a 6.5-inch OLED screen, while the upcoming second-generation iPhone X keeps the same 5.8-inch OLED display found in the current model. Then a third new iPhone will be sized between the two, but it'll be a mid-range phone with an LCD screen and less impressive specs.
Back to the big boy in Apple's 2018 iPhone lineup, it looks like it might end up being too big. This is exactly what I was afraid of. I definitely want an iPhone X style phone with a bigger display, but 6.5 inches may end up being overboard. According to the aforementioned report from earlier this morning, the upcoming "iPhone X Plus" will end up being the same size as the current iPhone 8 Plus. That's too big.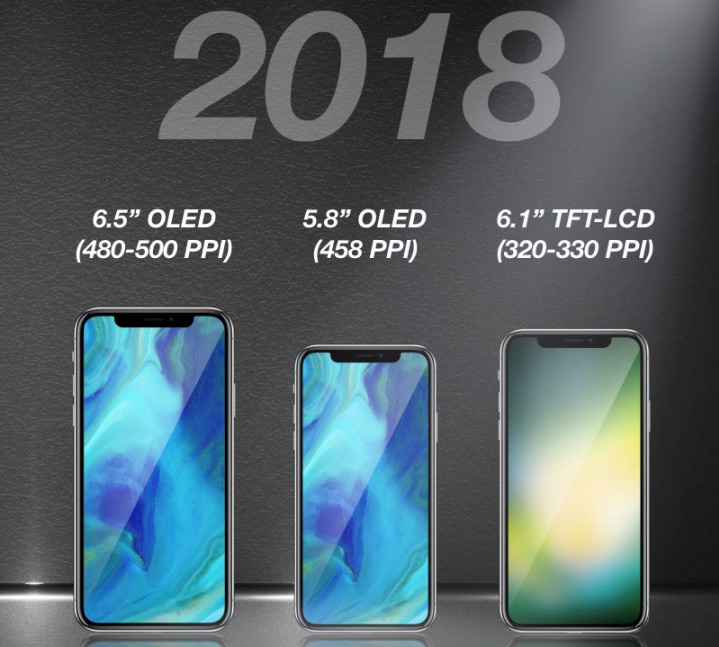 Now, it's entirely possible that the bizarre aspect ratio on Apple's current iPhone X ends up being the iPhone X Plus' saving grace. A phone that's as tall as the iPhone 8 Plus could be ideal as long as it's significantly narrower thanks to a 19.5:9 aspect ratio. But if the phone is only marginally narrower, it's still going to be far too wide to use comfortably for many or even most people. That leaves the 6.1-inch iPhone as the phone that's perfectly sized for most people, but we'll have to sacrifice performance and that stunning OLED display if we choose this model. On the flip side, it might end up starting at just $550, which would make it an incredible value.