If you're anything like me, you're going to have a hell of a time choosing your next iPhone when September rolls around. On one hand, you've got a new first-of-its-kind mid-range iPhone coming that'll feature the same design as the flagships, similar specs, and a price tag that could start at just $550. If rumors from the world's most accurate Apple insider pan out, it'll feature an LCD display instead of an OLED screen, an aluminum midframe instead of stainless steel, and no 3D Touch support. But seriously, who cares about 3D Touch support and stainless steel? The LCD display is doable considering how great Apple's LCDs are, and any performance hit resulting from less RAM should be more than offset by the $400 or so that one stands to save by choosing this model over a flagship 2018 iPhone. On top of all that, it looks like this new mid-tier iPhone model is going to be the perfect size.
Then, on the other hand, you've got the upcoming iPhone X Plus. This new phone — which definitely won't be called the "iPhone X Plus," by the way — will be just like Apple's current iPhone X, but larger. Rumor has it that in addition to a next-generation A series processor and all the upgraded internal components, the iPhone X Plus will feature a nice big 6.5-inch OLED screen. It'll also feature a nice big price tag that climbs well over $1,000 for the model with the most storage. Decisions, decisions!
The prospect of saving $500 when I buy my next iPhone is obviously quite enticing. I also think the mid-range model's 6.1-inch display will make it the perfect size. Apple's current iPhone X is a bit too small for my taste. Since the phone's 5.8-inch OLED screen has such a narrow aspect ratio of 19.5:9, the screen really isn't that big at all. In fact, the iPhone 8 Plus' 5.5-inch display actually has more real estate than the iPhone X's 5.8-inch screen.
Is 2018 really going to be the first year since 2006 that I don't buy a flagship iPhone? A new set of renders from graphic designer Martin Hajek just served as a painful reminder that I'm probably going to cough up twice the cash and spring for the iPhone X Plus.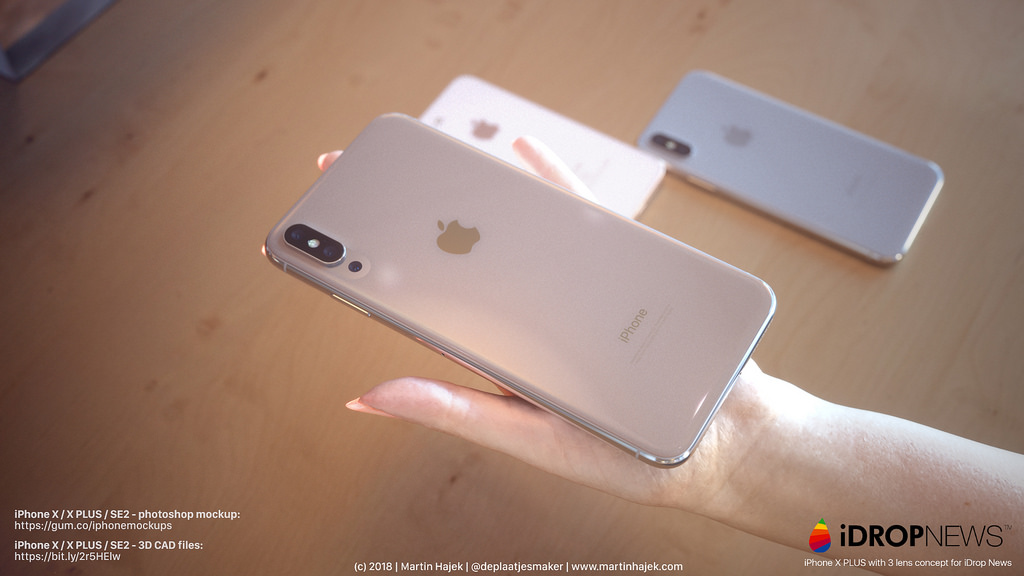 In a post on his blog, Hajek showed us just how gorgeous the supersized iPhone X will turn out to be. Hajek might not be great at rendering the human hand — seriously, the thumb in that image above is going to haunt my nightmares — but he's basically a wizard when it comes to rendering smartphones.
Hajek's imagining of what Apple's new iPhone X Plus will look like this year is likely almost perfectly accurate. I say "almost" because Hajek decided to imagine what an iPhone with a triple-lens camera a la Huawei's P20 Pro might look like. It's a neat idea, and Huawei's new flagship phone does have the best camera in the business right now, but there is absolutely no chance the iPhone X Plus packs in three camera sensors on the back. Apple might release an iPhone with a triple-lens camera at some point, but it won't be this year.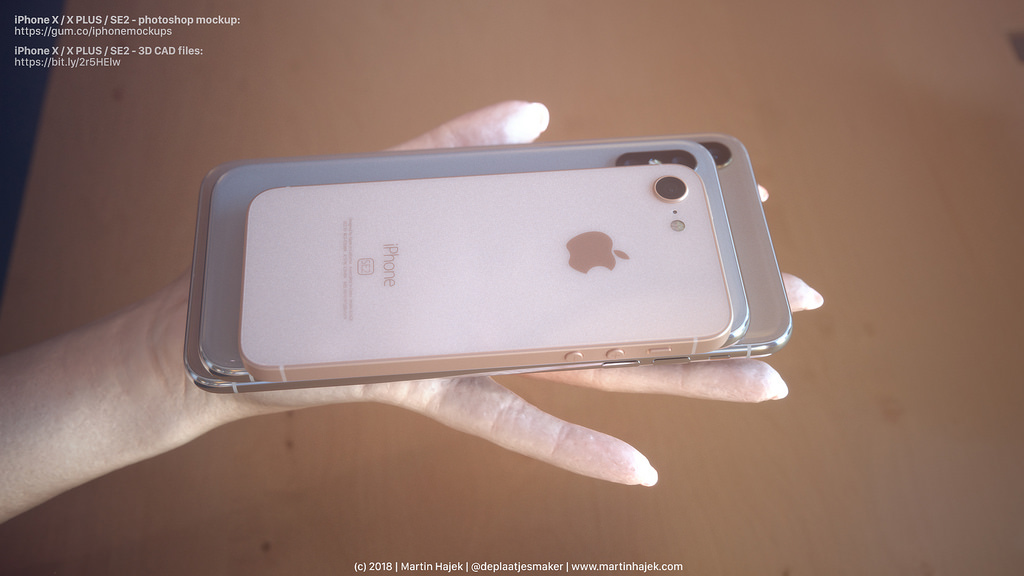 Beyond rendering the hot upcoming iPhone X Plus itself, Hajek also imagined what the plus-sized 2018 iPhone will look like next to the 5.8-inch iPhone X and Apple's rumored iPhone SE 2, which should be announced in the coming months. The iPhone SE 2 is expected to feature a design much like the current model, but with upgraded internal components and a glass back for wireless charging. Check out the rest of the renders on Hajek's blog, but remember that I warned you about that bizarre alien hand.