The biggest mystery surrounding Apple's upcoming new 2018 iPhone lineup might soon end up being what Apple intends to name its new phones, since most other details seem to have already been revealed.
Apple's tenth-anniversary iPhone X model is a complete reimagining of the iPhone, both in terms of design and user experience. The iconic home button was eliminated, and a brilliant feat of engineering allowed Apple to stretch the screen all the way to the bottom of the iPhone X's face. The lack of home button also meant Apple had to rethink navigation on the iPhone X, so a series of gestures and animations provide a new user experience that many Apple fans have praised. Touch ID was also removed from the iPhone X, having been replaced by a complex 3D facial recognition solution called Face ID.
Despite all of those changes — and the fact that the iPhone X is the first redesigned iPhone since 2014 — analysts believe that sales of the new phone will fail to meet expectations. That may be bad news for Apple, but there's a silver lining: Not one but two larger versions of the iPhone X will debut in 2018, according to the world's top Apple insider.
KGI Securities analyst Ming-Chi Kuo has for year been the most reliable source of inside information regarding Apple's plans. Kuo is tapped into a number of companies in Apple's supply chain, so he gets insights that most people outside of Apple don't have access to.
Kuo's latest note to clients was seen by MacRumors, which relays some troubling news for Apple's iPhone X. While the analyst had initially believed the iPhone X would enjoy lifetime sales of about 80 million units, he says very weak demand in China will prevent Apple from getting anywhere near that mark. Coupled with a higher-than-normal percentage of iPhone owners who decided to hold off on upgrading, Kuo believes lifetime iPhone X sales will only reach approximately 62 million units.
So what's the good news? Kuo says that Apple has plans to release not one but two larger versions of the iPhone X this year.
In addition to an upgraded version of the current iPhone X that will be equipped with a 5.8-inch OLED display, Kuo says 6.1-inch and 6.5-inch iPhone successors will also be released in 2018. The 6.1-inch version will apparently be a more affordable model with a lower-resolution LCD display, while the 6.5-inch iPhone will essentially be the "Plus" version of the 5.8-inch model, and will have an OLED screen.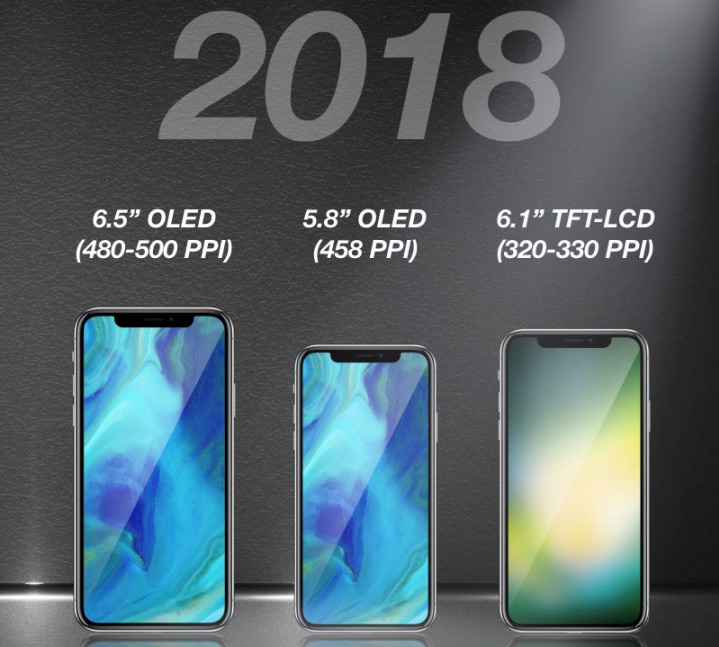 "We believe the addition of 6.5-inch OLED and 6.1-inch LCD iPhone models will boost Apple's market share in China, and that the US$650-750 6.1-inch LCD iPhone will make it easier for users worldwide to own a 3D sensing and full-screen design iPhone which offers an innovative user experience," Kuo wrote in his note to investors.
The analyst believes Apple's new iPhone lineup will be unveiled on schedule in the late summer, and he thinks it will help drive annual sales growth of between 5% and 10% despite lackluster demand for the current iPhone X.