Ahead of the upcoming iPhone X release, Apple has been hit with a lawsuit regarding one of the device's more intriguing new features. According to a report from The Recorder, Enrique Bonansea is suing Apple for infringing upon his Animoji trademark. Animoji, if you recall, is the name Apple gave to the iPhone X's animated emoji feature wherein the device's TrueDepth camera system tracks a user's facial expressions and applies them to an emoji in real-time.
The suit was filed earlier this week by Enrique Bonansea who claims to have registered the Animoji trademark with the USPTO in 2015. What's more, Bonansea has had a messaging app in the App Store with the Animoji branding going all the way back to 2014. According to the suit, Apple's decision to go ahead and use the Animoji name in spite of all this is a "textbook case of willful, deliberate trademark infringement."
What's particularly interesting about the suit is the allegation that Apple was well aware of Bonansea's app and even offered to acquire the trademark outright, an offer that Bonansea rejected.
The complaint reads in part:
Indeed, Apple offered to buy Plaintiffs' mark but was rebuffed. Instead of using the creativity on which Apple developed its worldwide reputation, Apple simply plucked the name from a developer on its own App Store. Apple could have changed its desired name prior to its announcement when it realized Plaintiffs already used ANIMOJI for their own product. Yet Apple made the conscious decision to try to pilfer the name for itself—regardless of the consequences.
Bolstering Bonansea's claim is the assertion that Apple in 2015 even removed a third-party app that made use of the Animoji name in response to a complaint from Bonansea.
"Before Apple announced its Animoji feature," the suit notes, "it had recognized Plaintiffs' senior rights to ANIMOJI. Apple itself removed an ANIMOJI-infringing third party app from Apple's App Store after Plaintiffs requested it."
The complaint includes a screenshot of the app in the App Store, as seen below.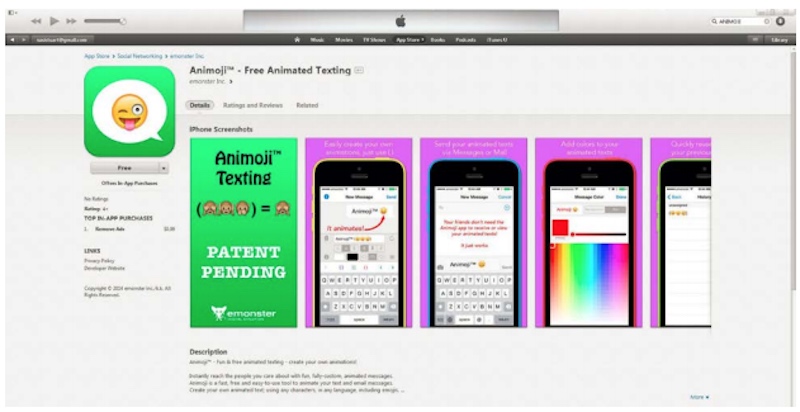 The complaint gets even more interesting amid allegations that Apple tried to cancel the Animoji trademark — on a legal technicality — just one day before unveiling the iPhone X. The USPTO denied Apple's request.
For as many frivolous lawsuits that come Apple's way, this particular suit seems to have some legitimate legs to it. It will be interesting to see what approach Apple takes in its response, assuming that Bonansea can't be bought out.