The iPhone X may be the most advanced iPhone we've ever seen, but it's also the most controversial. Sure, the iPhone X is jam-packed with all sorts of new features and technologies, but it's downright impossible to ignore the notch housed at the top of the device. While Apple could have opted to hide the notch by making the flaps to the right and left of the image sensors black, Apple decided to do the exact opposite and embrace the notch fully. Whether Apple's decision in this regard was a branding or UI decision remains unknown, but what we do know is that the notch is here to stay. Indeed, Apple has even encouraged developers not to implement any UI updates that draw attention away from the notch design.
In the weeks preceding last week's iPhone X launch, the device's notch design was controversial to say the least. That said, the overwhelming consensus, now that the device is out and in the hands of customers, is that the notch isn't actually that unseemly and that it tends to fade into the background when actually using the device.
Now if you happen to be in the minority of people who feel otherwise, there's no reason to despair. In fact, you might be happy to know that there's actually an app out there that, through some clever iOS background-image trickery, can effectively remove the notch design from the iPhone X homescreen and lockscreen.
The app is called Notcho — obviously — and it allows users to create backgrounds that turn the flaps alongside the notch inky black. And seeing as how a picture is worth a thousand words, the image below effectively captures why Notcho is worth checking out.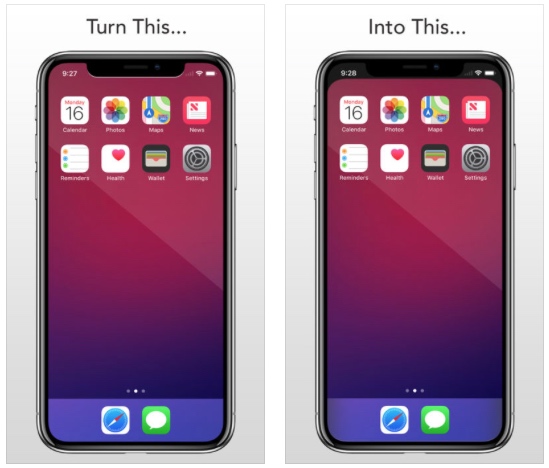 The app comes with a few of its own pre-loaded backgrounds but it also lets you tweak your own backgrounds if that's more your style.
Notcho is free, but the free version includes a small watermark that you'll definitely not want ruining the user experience. If you want to get rid of the watermark, that requires an in-app purchase of $1.99.
If you hate the notch but don't hate it so much that you want to spend $2 to get rid of it, you can just as easily download a free iPhone X wallpapper from Alex Humberman that essentially does the same thing. The download link can be found in the tweet below.
an #iPhoneX wallpaper I made 2 get #notchless homescreen https://t.co/lXTnNwginr must set 2 still / pinch out & drag down all the way 2 work pic.twitter.com/YVErxKruOc

— Alex Huberman (@lexSayzzz) November 6, 2017