A few days ago, the unthinkable happened. The final iOS 11 version was leaked, including the version that's supposed to be installed on Apple's best 2017 iPhone. We learned many details about the new iPhones from it, including the final names of the products. We're looking at iPhone 8 and iPhone 8 Plus for the iPhone 7 and iPhone 7 Plus successors, respectively, and iPhone X for Apple's all-screen iPhone.
A credit card company is so convinced these are the official names of the new iPhones, give or take an "Edition," that it already listed them on its website.
It was 9to5Mac that first found Discover's mention of Apple's unreleased devices.
The company posted on its Deals website a disclaimer that excludes Apple's newest devices from cash back promotions. The list includes all the new iPhones, though the names don't quite match the iOS 11 leak: "iPhone 8, iPhone 8+, iPhone X Edition."
We don't expect Apple to ditch the word "Plus" from the official name of the biggest iPhone and replace it with a "+" sign. This isn't Samsung. Also, the "Edition" particle wasn't included in iOS 11 code, which only offered "iPhone X" as the name of the product.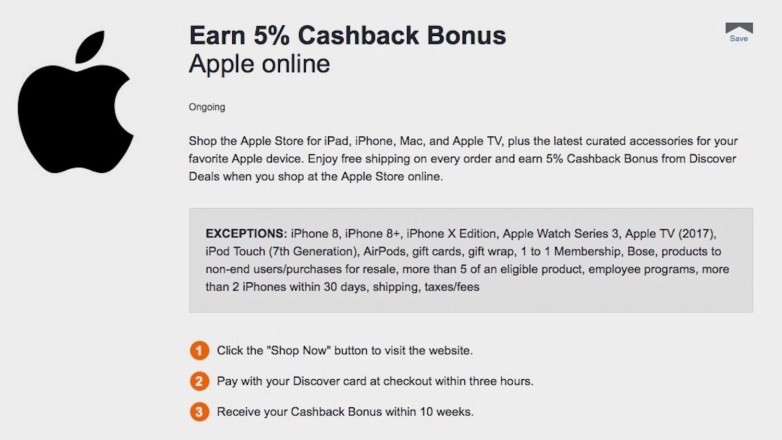 It seems unlikely that Discover knows in advance the names of these products. The list of products includes a 7th-gen iPod touch that's yet to be unveiled. We haven't seen such a device in any rumor preceding Apple's Tuesday event, so it's probably unlikely that Apple will announce during the keynote.
But Discover seems to have been confident enough in the leak to actually use these product names in an official notice posted on its site. The image was removed, but expect to see it again once Apple takes the wraps off the iPhone X later on Tuesday.