After analyzing sales data across 350 distinct smartphone models, a new research report from IHS Markit reveals that Apple's iPhone 6s was the most popular smartphone model in 2016. One of the more interesting takeaways from the report is that iPhone 6s shipments last year even outpaced the cumulative shipment tally from Samsung's flagship Galaxy S7 and S7 Edge.
Admittedly, the comparison isn't exactly straightforward given that the iPhone 6s was available for all 12 months throughout 2016. In contrast, Samsung's S7 lineup – which didn't go on sale until early March — was only available for 9 months during the same time period. Nonetheless, when we consider that the iPhone 7 launched in September of 2016, the period of time where the iPhone 6s and the S7/S7 Edge were positioned as Apple and Samsung's respective flagship devices was more or less the same.
"Apple again has demonstrated that its new iPhones integrate enough innovations and new features to drive sales and remain successful in the market," IHS said in a press release. "The company is also capable of selling older devices for an extended period of time. For instance, the year-old iPhone 6s and 6s Plus were both among the most-shipped models in 2016."
Even though shipments of Samsung's 2016 flagship devices lagged behind the iPhone 6s, the report relays that Samsung still managed to ship 10 million more S7 and S7 Edge units in 2016 than they shipped S6 and S6 Edge units in 2015.
Furthermore, as the chart below illustrates, various Samsung smartphone models accounted for 5 of the 10 most-shipped smartphones in 2016.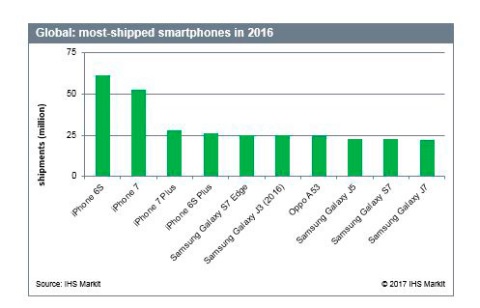 Looking ahead, it stands to reason that the iPhone's lead in the marketplace will not be withering away anytime soon. With Apple set to introduce an iPhone with an edgeless OLED display later this year, some analysts believe that Samsung will experience an overall decline in smartphone shipment volume. Specifically, analyst Ming Chi-Kuo believes that Galaxy S8 shipments in 2017 will be anywhere from 10-20% lower than Galaxy S7 shipments in 2016.
"We are conservative on demand for Galaxy S8," Kuo said a few weeks ago, "and believe its contribution to the supply chain will be limited. Instead we recommend focusing on the sales outlook and supply chain momentum of Apple's (US) OLED iPhone model."