As part of Google's ongoing effort to make the switch from iOS to Android that much more seamless, the search giant recently introduced a new Google Drive feature designed to assist users who want to transfer their content over from their iPhone to an Android smartphone.
The entire process is extremely straight forward as it simply uploads a user's important iOS data to Google's cloud whereupon the data is then pushed back down to a new Android device. From start to finish, the transfer process only consists of two steps.
Assuming one already has the Google Drive app, the first step is to access the backup wizard by going to Menu > Settings > Backup. From there, users can select which type of data they'd like to transfer, whether it be contacts, calendar events, photos or videos. Once selected, a user need only hit the "Start Backup" button and the uploading process will begin.
Google warns that the backup process could take several hours, so users are advised to initiate the process with their device plugged in and Wi-Fi turned on.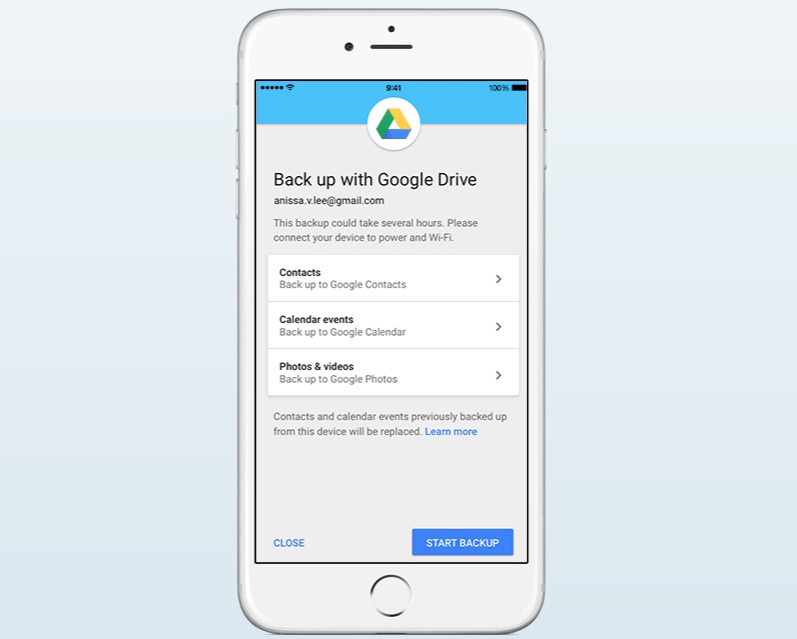 Once the backup process is complete, users need only to sign into their Google account on their new Android phone and the syncing process will begin automatically. From there, all of uploaded data in the cloud will summarily be downloaded to an appropriate app location on the new device.
The larger takeaway from all of this is that the artificial barriers that previously prevented iPhone and Android users from switching camps are less of an issue than ever before. Naturally, Apple has its own tool — an Android app called Move to iOS — that makes it just as easy for Android users to transfer all of their data over to an iOS device.
One last thing to keep in mind: if you're switching over from an iOS device to Android, make sure to disable iMessage lest you miss out on text messages sent from iPhone users.