When Steve Jobs first introduced the iPhone back in 2007, the Apple co-founder laid out a rather modest goal for the company's revolutionary smartphone — to sell 1 million units. At the time, 1 million in unit sales represented approximately 1% of the global smartphone market. And not only did Apple reach that goal with ease, it quickly became apparent that the iPhone itself was a juggernaut, a once-in-a-lifetime product that would forever change the way we interact with technology.
With each passing quarter, iPhone sales continued to skyrocket. Indeed, it wasn't until the company's March 2016 quarter that iPhone sales would experience their first year-over-year sales decline. That said, Apple last week reached an impressive new milestone — 1 billion iPhones sold.
DON'T MISS: Ultimate Pokemon Go cheat lets you walk anywhere in the game without moving an inch
Word of Apple's incredible milestone came via a press release issued earlier today.
During an employee meeting at Apple last week, CEO Tim Cook made the following statement:
iPhone has become one of the most important, world-changing and successful products in history. It's become more than a constant companion. iPhone is truly an essential part of our daily life and enables much of what we do throughout the day. Last week we passed another major milestone when we sold the billionth iPhone. We never set out to make the most, but we've always set out to make the best products that make a difference. Thank you to everyone at Apple for helping change the world every day.
As for how we got here, the following chart maps out all of Apple's quarterly iPhone sales from 2007 all the way to the present.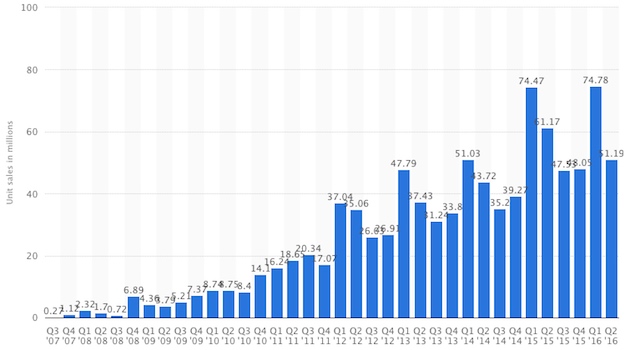 And for a little trip down memory lane, here's Steve Jobs masterfully introducing the iPhone back in 2007. What's particularly crazy about the original iPhone introduction is that the actual product vastly exceeded even the most wildly optimistic expectations about what the device was going to be like.
Developing…