Apple dropped the price of iPhone battery replacements after confirming that iOS throttles older iPhones as soon as it detects possible battery health issues. Chaos ensued, at least for some iPhone users who were unable to have their iPhone serviced when Apple stores ran out of certain iPhone batteries — the iPhone 6 Plus battery is supposedly out of stock until March. That's because the $29 battery program is available to any iPhone users, even if their batteries pass health tests and don't trigger any slowdowns in the first place.
As frustration mounts, Apple appears to be testing a new way of making the entire battery replacement experience simpler for affected buyers.
The company is now letting Canadian iPhone users reserve a battery through the iPhone Support app. This appears to be a limited trial, Apple Insider explains, as the same feature isn't available in the US version of the app.
Users looking to have their batteries swapped need to go to the Get Support menu in the app, then choose the Battery, Power, & Charging menu, and then select Reserve a Battery, as seen in the following image.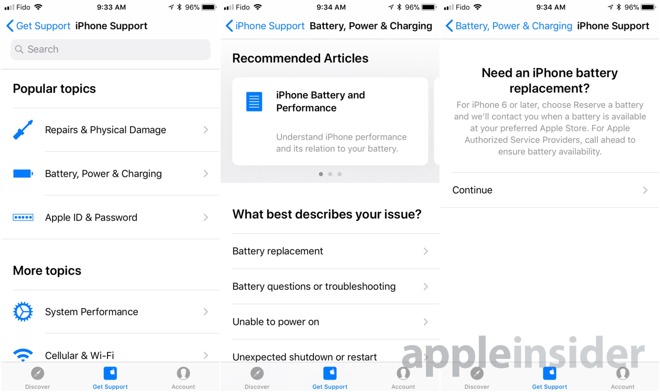 Once a battery is reserved, users have seven days to complete the replacement. If the swap isn't completed within that time frame, the reserved battery moves back into the general pool. It's as simple as that, and the feature may save you a trip to a local Apple store, especially if the locations near you have limited stock of replacement batteries.
It's unclear whether the battery reservation feature will be available in other markets, but it would certainly make sense to simplify the process outside Canada as well.