Apple just unveiled three new iPhones during its annual September press conference, the three phones we all expected to see Apple announce. But it also killed six models in the process, retiring the aging iPhone SE, iPhone 6 and 6 Plus, iPhone 6s and 6s Plus, and the iPhone X. While Apple won't sell these particular phones in store, it doesn't mean they're just going to disappear. They may become even more attractive to buyers looking for used iPhone deals. But if you are going to buy one of the older phones, especially the iPhone 6 and iPhone 6s, make sure you verify the health of their batteries and replace them before Apple's deal expires.
Late last year Apple was hit with a massive iPhone slowdown scandal that seemed to confirm the conspiracy theory that Apple intentionally slows down older iPhone to force users to upgrade. What happened was that Apple failed to adequately inform iPhone 6 and iPhone 6s users that iOS will throttle the speed of their devices when battery health issues are detected, to prevent shutdowns.
Apple then issued apology after apology and promised to allow you to control CPU throttling manually. More importantly, Apple kicked off a one-year iPhone battery replacement program that reduced the repair fee from $79 to $29. That's a great deal for anyone rocking older handsets that need battery replacements.
But the arrival of the iPhone Xs and Xr phones reminds us that the deal will soon expire, and prices will go up after December 31st. Apple updated its support page to include the three new iPhones it just launched — swapping out faulty iPhone Xs, Xs Max, and Xr batteries will cost you $69 if you don't have AppleCare+.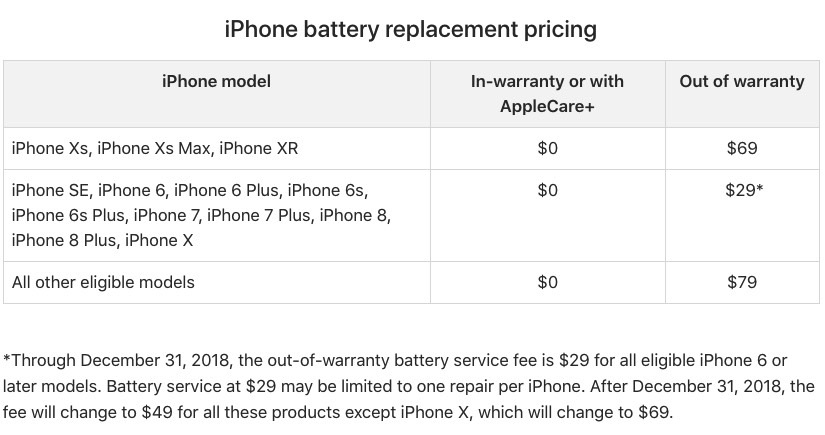 The document also notes that all replacements for iPhone SE, iPhone 6, iPhone 6 Plus, iPhone 6s, iPhone 6s Plus, iPhone 7, iPhone 7 Plus, iPhone 8, iPhone 8 Plus, and iPhone X will cost $29 only until December 31st. After that, you'll pay $49 to replace the battery of any old iPhone model, except for the iPhone X, whose battery replacement fee will go up to $69.