Even though Apple over the past few years has done an impressive job of making the iPhone impressively thin, many users have voiced the opinion that they care about battery life than device thinness. Indeed, a complaint commonly heard from iPhone owners is that Apple should make a relatively thicker iPhone as to make room for a bigger battery.
While Apple certainly isn't keen on making a thicker iPhone, the company in recent years has explored other avenues that would ultimately improve battery life on the iPhone. To this point, a new report from IHS Markit relays that future iPhone models may incorporate a new type of backplane technology that could substantially improve battery life on upcoming iPhone models.
As a point of reference, IHS notes that backplane technology is the display technology responsible for turning "individual pixels on and off" and plays an instrumental role in overall power consumption.
At present, mobile AMOLEDs have adopted low-temperature polysilicon thin-film transistor (LTPS TFT) as the standard backplane, whether in rigid OLEDs with a glass substrate or in flexible OLEDs with a polyimide substrate. This is because of good electron mobility, which drives OLED circuitry and materials to achieve high pixel densities.

…

However, a new kind of backplane TFT is rising on the horizon which the Apple iPhone may adopt in the long term- the so-called LTPO, or low-temperature polycrystalline oxide. In fact, Apple has applied for three important patents on LTPO.
If Apple does move forward with the aforementioned display technology, power consumption might drop by as much as 15%.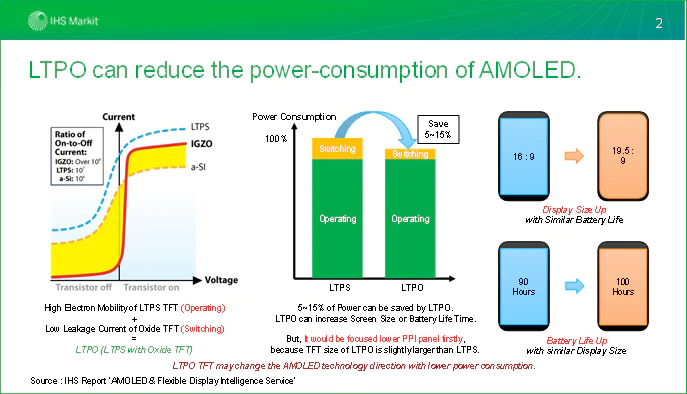 All in all, the report shouldn't come as much of a surprise given Apple's ongoing interest in utilizing and developing brand new and superior display technologies. Indeed, a report from earlier in the year relayed that Apple has a semi top-secret research lab in California where upwards of 300 engineers are singularly focused on MicroLED displays which promise to deliver panels that are thinner, brighter, and more efficient with respect to power consumption.
"The screens are far more difficult to produce than OLED displays," Bloomberg reported this past March, "and the company almost killed the project a year or so ago, the people say. Engineers have since been making progress and the technology is now at an advanced stage, they say, though consumers will probably have to wait a few years before seeing the results."
You might also recall that Apple in 2015 set up a similar lab in Taiwan where teams of researchers, scientists, and engineers were tasked with exploring energy-efficient display technologies that could lead to thinner and lighter panels. Suffice it to say, Apple is expending a tremendous amount of R&D resources towards improving overall battery life on the iPhone.
So while some might understandably argue that smartphone innovation has come to something of a standstill, Apple in the years ahead may very well have a few tricks up its sleeve.