It's no secret that Apple is betting big on augmented reality (AR), which it favors over virtual reality (VR). In June, Apple made it all official by announcing that iOS 11 will be the first iPhone and iPad software to come with developer-friendly tools to develop AR games, and AR experiences are already available on devices running iOS 11.
But Apple isn't working just on AR software, as rumors say an Apple AR headset is already in the works and may hit the market by 2020. Apple will not confirm any rumors about future products, but the company recently acquired Canadian AR/VR startup Vrvana for $30 million. Vravana created a headset that combines AR and VR, offering users a different experience than what's available from competing devices.
Apple has not confirmed the move, but didn't deny it either. Both Tech Crunch and Business Insider learned from sources familiar with the matter that Apple indeed bought the little company, whose CEO and a dozen former employees are already working for Apple.
Vrvana's only product was called Totem, a headset that never hit stores, but was demoed extensively. Unlike other similar devices, the Totem delivers an "extended reality" experience, combining AR and VR tech into a single headset.
Even though it's a headset, it still uses data from several forward-facing pass-through cameras to replicate the outside world on OLED displays. The AR components are then overlaid on top of reality, offering a seamless experience.
The Totem (in action below) is better than Microsoft's HoloLens in that regard, as it can deliver full-color animations on top of reality. The HoloLens, meanwhile, offers only ghost-like projections.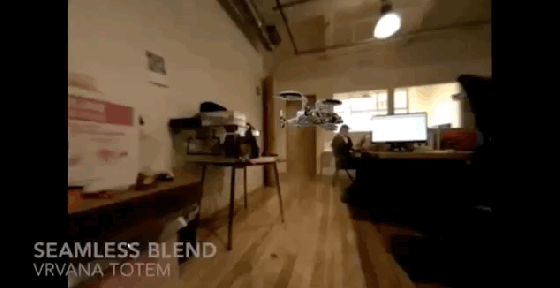 The Totem, however, also has a significant downside, camera lag for capturing the real world. But the company has been working on reducing it to less than 3ms. Then there's always the nature of the gadget, a bulky headset that's likely not what Apple envisions for its AR/VR headset.
However, the Vrvana acquisition may be as important for the iPhone of the future, a device that might beam AR and VR data to an Apple Glass product, as the PrimeSense purchase was for the iPhone X's Face ID. Vrvana isn't Apple's only AR-related purchase. The company bought several other companies in this field, including SMI, Flyby Media, metaio, Emotioent, and Faceshift.