There's no question about it: the iPhone 8 and Galaxy Note 8 are the two hottest smartphones launching in the second half of the year. They will have various things in common, including all-screen designs, dual cameras on the back, speedy processors built on the latest technology available, and plenty of storage. They'll also be quite expensive, with both the iPhone 8 and Galaxy Note 8 expected to cost around $1,000. But how big will they really be?
Smartphone size is an important factor when deciding what phone to buy next, at least to some people. That explains why the 4-inch iPhone SE is popular with so many people, and why smartphone makers are looking to increase the phone's screen without also enlarging the entire device.
Devices like the Galaxy S8, iPhone 8, and Galaxy Note 8 will have great screen-to-body ratios, featuring tiny bezels to maximize the screen real estate. But a new leak indicates that the Galaxy Note 8 will look like a giant compared to Apple's latest iPhone.
An image found on Weibo and posted online by TechTastic shows a comparison between Galaxy Note 8 and iPhone 8 screen protectors.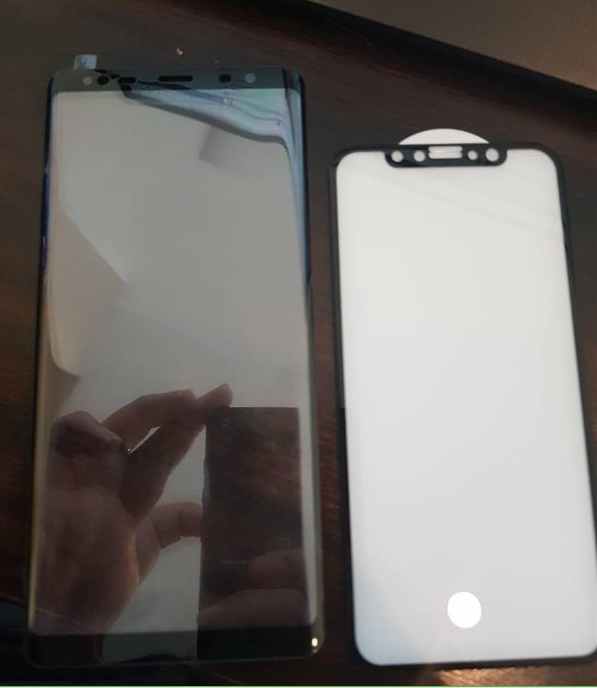 Recent iPhone 8 and Galaxy Note 8 leaks confirmed the design for both devices, and these screen protectors seem to be like the real thing. The Galaxy Note 8 is supposed to feature a 6.3-inch display, while the iPhone 8 will have a 5.8-inch screen according to reports. In real life, that means Samsung's phone will be a lot taller and a bit wider than the new iPhone.
That's hardly a surprise, considering that every Note model to date was much larger than the iPhone — the top image shows a comparison between last year's iPhone 7 and the Galaxy Note 7. But if you're oscillating between the new Note and the upcoming iPhone, and size does matter, then you have a pretty good idea of what to expect this year.