We generally know what to expect whenever a new iPhone 8 rumor comes in. Apple's premium iPhone this year will feature a big redesign, complete with features never before seen in an iPhone. However, there's a new rumor out of Asia that's simply awful. The fact that it does make a little bit of sense is even worse. But the most annoying thing about it is that it makes the iPhone 8 seem like a Galaxy S8 clone, but much uglier.
For months now, we've heard that Apple's new iPhone 8 will feature an all-screen design like the Galaxy S8. The home button is going away, but the fingerprint sensor will supposedly be embedded in the display. The front and back sides of the phone will be made of glass for wireless charging.
Now, iDrop News says it spoke to a source from Foxconn who offers slightly different details on the iPhone 8. For starters, the iPhone 8 will be called iPhone Edition, not that it really matters what name Apple chooses for it. We've seen this name mentioned in a number of earlier reports, so it's entirely possible — as everyone is surely aware, "Edition" branding is also slapped onto Apple's high-end Apple Watch models.
The "final-stage" prototype is supposedly already being tested, and the source says it features a radical new design, just as other rumors suggested. However, there are various changes in this rumor compared to what we've heard elsewhere.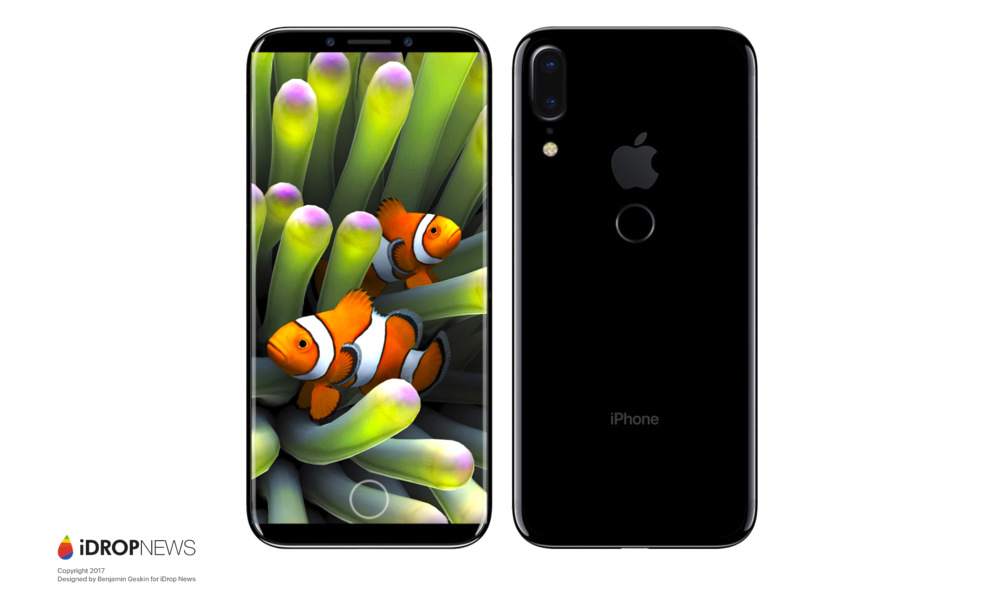 The iPhone Edition's housing isn't made of glass, according to the blog's report. Instead, it's made of metal. On the back, there's also a rear-facing Touch ID fingerprint sensor and a vertical dual camera. The site says Apple chose metal instead of glass to make the phone more durable. The camera position, if accurate, may have something to do with improving the depth of field feature when the handset is used in landscape mode for Apple's rumored new augmented reality features.
What's certainly puzzling is the location of the Touch ID sensor, which seems to suggest that Apple may have run into some issues with embedding the sensor into the display, as the majority of rumors have said would be the case. That is, of course, assuming that this blog has legitimate information. The report only cites one source, which is obviously a giant red flag, and the phone described here is, well, hideous. If there's one thing Apple is known for its beautiful designs, and there's nothing beautiful about this design.
The display will be a slightly curved 2.5D OLED edge-to-edge screen, the report says, which is pretty much what we've heard in other recent iPhone 8 rumors.
The source also told iDrop News that the iPhone prototype it saw looks very much like the renders the site has created (see one of them above). Aside from the camera shape and position, and the fingerprint sensor's location, the iPhone 8 in these images look very much like a Galaxy S8.
That said, there's no way of verifying this rumor. In fact, it's probably the shadiest rumor we've seen so far. I'm personally very skeptical about these claims, as they're drastically different from what well-known leakers and insiders have had to say about the tenth-anniversary iPhone.