The iPhone has been around for more than 10 years and it seems that some analysts still don't have a firm understanding of Apple's user base. As a chief example, analyst Tony Sacconaghi recently told CNBC that if Apple's forthcoming iPhone 8 is delayed, prospective iPhone buyers might jump ship and purchase smartphones from other manufacturers.
"If the phone is materially constrained once we hit the holiday season, post-October 15, then it's worrisome," Sacconaghi said. "If its delayed and consumers feel they won't get it until 2018, you run the risk that people will look to other devices."
There are a few things to unpack here. For starters, iPhone users are more loyal than their Android counterparts, which is to say current iPhone owners are far more likely to stick with Apple than, say, LG customers are likely to stick with LG. In fact, a Morgan Stanley survey from earlier in the year found that 92% of iPhone buyers have no intention of leaving the Apple ecosystem, as illustrated below.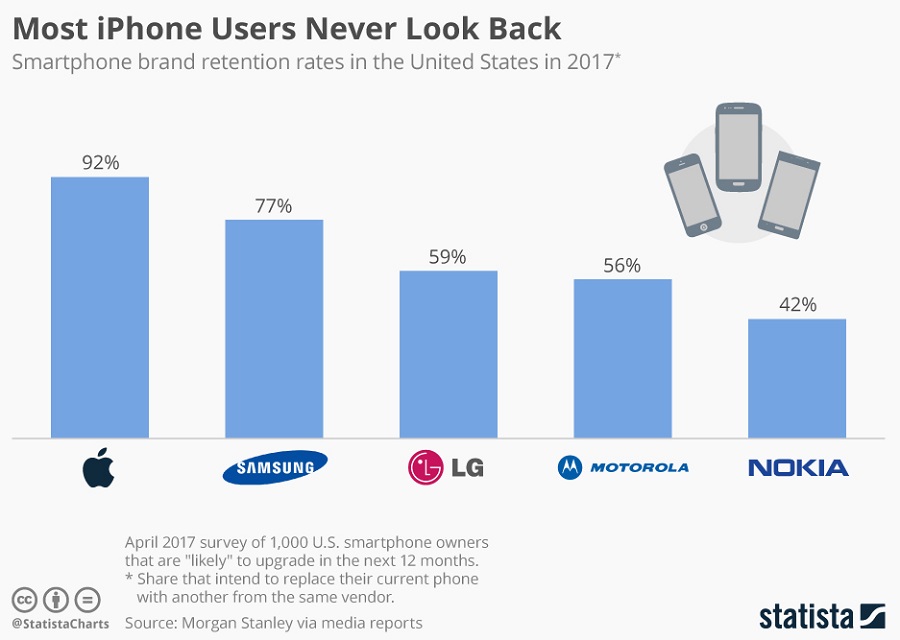 That being the case, the notion of excited iPhone 8 users jumping ship for the likes of Samsung seems far-fetched, even in a scenario where the iPhone 8 release is somewhat delayed.
Far more important, though, is that the iPhone 8 is easily the most anticipated iPhone release we've seen in years. While the current iPhone design is certainly sleek, many users have been hoping for a new form factor for quite some time. After all, the last time we saw any meaningful change to the iPhone design was back when Apple released the iPhone 6 in 2014. The iPhone 8, though, promises to be a transformative upgrade from all angles. In addition to a new edgeless OLED display, the iPhone 8 will deliver new facial recognition technology, better battery performance, improved water resistance and more. If there were ever an iPhone worth waiting for, it's the iPhone 8. Put simply, many iPhone users have been waiting for a device like the iPhone 8 for years, which is to say most interested buyers will be able to deal with a slight 1-2 month delay if need be.
Further, iPhone delays are nothing new. Remember, Apple users traditionally have no problem with paying a premium for electronics because they specifically want unique offerings from Apple. It's why many users last year patiently waited for the iPhone 7 Plus even though the device was subject to delays that stretched out into late 2017.
Now to be fair, an iPhone 8 delay would certainly have an adverse impact on Apple's bottom line. But at worst, it might prompt some prospective users to either opt for an iPhone 7s model or perhaps wait until Apple's 2018 lineup. What I can't see happening, though, are throngs of impatient iPhone owners deciding to throw their hands up in the air in defeat and pick up a brand new Samsung smartphone instead.
As it stands now, word is that the iPhone 8 will launch on September 22, albeit in limited quantities. Apple is certainly doing all it can to ramp up production as quickly as possible but it remains to be seen just how significant the wait for a new iPhone 8 will actually be.