We saw some purported iPhone 8 schematics leak earlier in the week, and now an even more detailed set of supposed schematics has surfaced from Asia. Assuming the new leak is accurate, the drawing brings plenty of good news and some surprises, while simultaneously crushing an exciting iPhone rumor we still wish it were true.
Posted on Weibo the schematic below seems to be in line with similar leaks that we saw earlier this week.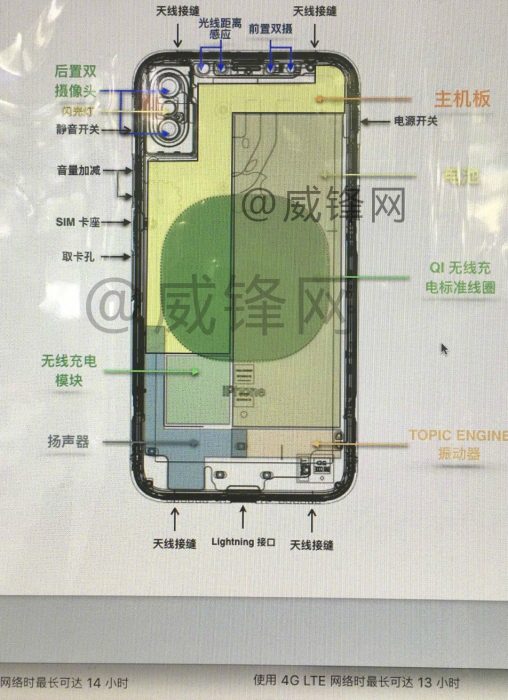 What's immediately evident from this image is that we're not looking at a schematic for the iPhone 8 design everyone hated. There's no rear-facing Touch ID fingerprint sensing component featured in this picture. And since there's no physical home button either, this schematic shows us the internal design of an iPhone 8 that would incorporate the Touch ID sensor in the OLED display.
Another piece of good news concerns wireless charging. That big green patch in the middle is the iPhone 8's charging coil. Beneath it, also in green, we have a wireless charging module.
The iPhone 8 will supposedly feature Qi wireless charging, at least according to this drawing. If it's accurate, the leak seems to definitively kill our dreams of charging the iPhone 8 from across the room. Alas, it's not like there was any life left in that exciting iPhone rumor anyway.
Other interesting tidbits that can be discerned from the schematics concern the antennas. Apple has apparently killed the ugly antenna lines it used in every iPhone since the iPhone 6, opting for more discreet antenna gaps akin to what it did with the iPhone 4 and iPhone 4s series. There are four such gaps placed near the top and bottom corners.
Finally, there's one thing that's a bit unexpected. The vertical dual lens camera is placed on the same side of the phone where the volume rockers are found. Furthermore, the SIM card tray also seems to be relocated to the left side of the phone. It now sits under the volume rockers.
In previous iPhone models, the camera is placed in the top right corner (when looking at the handset from the front), on the same side as the standby button and the SIM tray location. The orientation of the rear camera seems to be dictated by the front-facing camera and sensor assembly that appears to take plenty of internal space. The new location also would make sense if you think about using the volume rocker buttons as shutter buttons.
With all that having been said, there's no telling if this new iPhone 8 leak is actually genuine, so don't get too excited.