Rest in peace, Jet Black.
Apple decided to use the same iPhone design for a third consecutive year in 2016, so the company had to find other ways to differentiate the iPhone 7 and iPhone 7 Plus. After all, if the phones only sported better internals and other iterative upgrades, why would any iPhone 6s or 6s Plus owners upgrade? Apple slapped a nifty new dual-lens camera on the back of the iPhone 7 Plus and doubled the storage capacity of each model, but it also added two new colors to its iPhone lineup. Matte black would replace Space Gray, and a second new "Jet Black" finish would be introduced.
Since the 2017 iPhone lineup isn't made of aluminum, Apple obviously won't carry the Jet Black finish forward to the iPhone 8, iPhone 7s, or iPhone 7s Plus. Don't worry though, because the company has a hot new color that will replace it. That new color is… you guessed it… black.
That's right, just plain black. Since Apple's new iPhone 8 has glass on the front and back along with polished black stainless steel edges, the entire handset will have a glossy, mirror-like finish. Apple fans will recall that Jony Ive's dream is an iPhone made from a single sheet of glass, and the company's new iPhone 8 will bring Apple closer than ever to realizing that dream.
A new leaked photo posted to Weibo and linked by Slashleaks shows just how sleek Apple's new mirror finish is. And best of all, it won't get scratched to hell two seconds after you take it out of the box like Apple's Jet Black finish.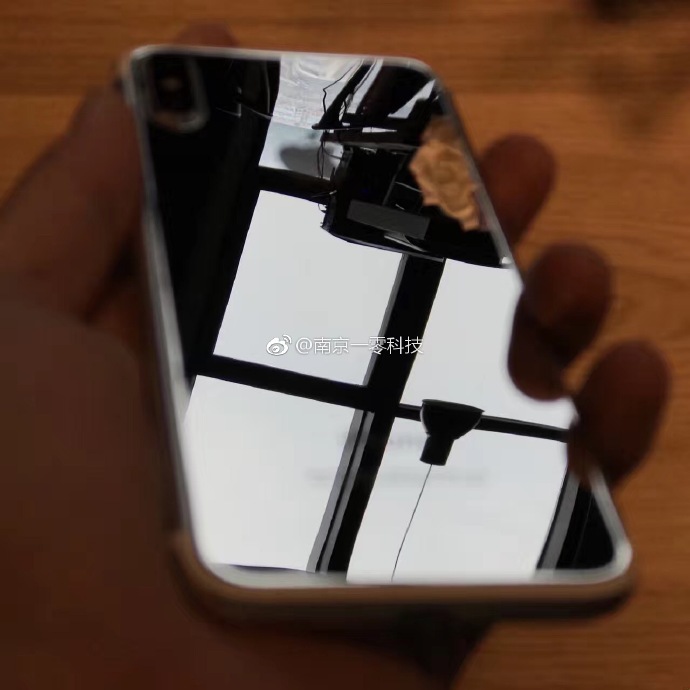 The image shows an iPhone 8 mockup held at an angle to the light, so it gives us a great look at what Apple's new iPhone 8 finish will look like in use. Long story short, it looks fantastic. Apple is expected to unveil the iPhone 8 alongside two more new iPhone models during a press conference in California in early September. Until then, we'll have to make do with leaks like this one.