Apple's iPhone 8 release date might still be more than six months away, but you wouldn't know it to look at all the chatter around the web right now. New reports claiming to reveal details about Apple's upcoming iPhone 8 emerge each and every day, and they continue to paint an increasingly clear picture of Apple's next-generation flagship iPhone. Increasingly clear, yes, but there's still a very long way to go before we know exactly what to expect from Apple's tenth-anniversary iPhone. In the meantime, people continue to image what might be in store from Apple based on the rumblings we've heard thus far.
Based on what we've learned from insiders with impressive track records like KGI Securities analyst Ming-Chi Kuo, the iPhone 8 will feature an exciting new design that pack a large 5.8-inch OLED display into a compact housing that is roughly the same size as Apple's smaller iPhone 7. How will Apple fit its biggest ever smartphone screen into a phone the size of the current 4.7-inch iPhone? According to reports, the phone will sport an exciting new design that removes the home button and does away with much of the empty space surrounding the screen on current iPhone models. As a result, the phone will feature a face that is nearly all display.
The larger screen and embedded Touch ID fingerprint scanner are exciting for a number of reasons, but one is the new function area that will supposedly occupy the bottom of the display much of the time. Like the Touch Bar on Apple's latest MacBook Pro models, this area will supposedly change dynamically based on which apps are being used at the time, offering shortcuts and other functions that can be customized by developers.
We still have no idea if these reports are accurate, and we don't know what features iOS 11 will offer in the "Function Bar" supposedly headed to the iPhone 8. One Apple fan on the forums at MacRumors decided to create renders that imagine what we might see at the bottom of Apple's new OLED displays, and the results are pretty awesome.
Forum user deuxani posted a series of images recently (via MacRumors)that show this new function area in action on the iPhone's home screen, lock screen, and in a few apps. On the lock screen, a fingerprint graphic would indicate that the user can unlock the phone with a Touch ID scan. Meanwhile on the home screen, the function area might only display a home button.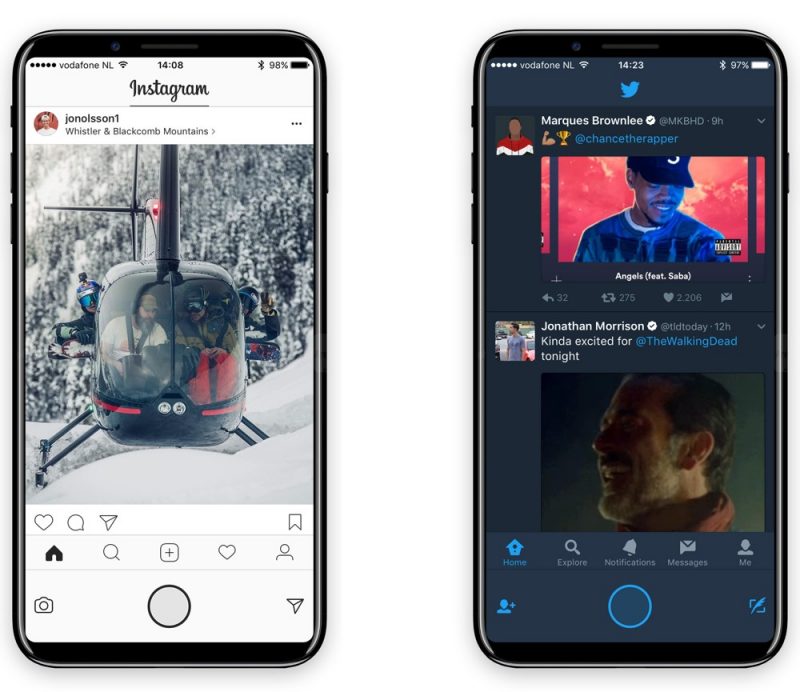 Inside apps is where things get interesting, though. In these fan-made mockups, the Instagram app offers Function Bar shortcuts to post a new photo and to the app's private messenger inbox. Meanwhile in the Twitter app, a shortcut to post a new tweet might be available. And when the user visits someone's profile page, there might be a shortcut to follow that user.
Again, these are fan-made concept images and we have no idea how closely they represent reality, if at all. Given how adamantly Apple is pushing the Touch Bar on the MacBook Pro, however, bringing similar functionality to iOS devices may indeed be high on the company's list of priorities.