We've seen a bunch of iPhone 8 rumors so far, and most of them offer the same predictions. The all-screen iPhone will ditch the home button while retaining all of its functions, including fingerprint-sensing. But some analysts say that the Touch ID fingerprint sensor is going away, as Apple is looking to add face recognition features to the new iPhone.
However, we're probably unlikely to see the iPhone lose its fingerprint-sensing powers. Touch ID represents a critical security feature, one that Apple probably will not ditch anytime soon. Analysts who may be looking only at supply chain information may be right in one regard: the iPhone 8 won't have the same traditional Touch ID components we've seen since the feature was introduced on the iPhone 5S.
A new patent awarded on Tuesday to Apple and first seen by 9to5Mac explains a new way of reading fingerprints, one that involves the use of ultrasonic imaging.
The Biometric sensing device with discrete ultrasonic transducers patent describes technology that would employ sound waves to capture biometric data such as a fingerprint image.
These "discrete ultrasonic transducers" could be placed in a home button, the patent indicates, but they could also be placed anywhere else on a device. The ultrasonic transducers could be embedded in a display — in the image below, the system would use ultrasounds to detect a fingerprint when a finger is either pressing on a traditional home button or touching the area on the screen labeled as 110.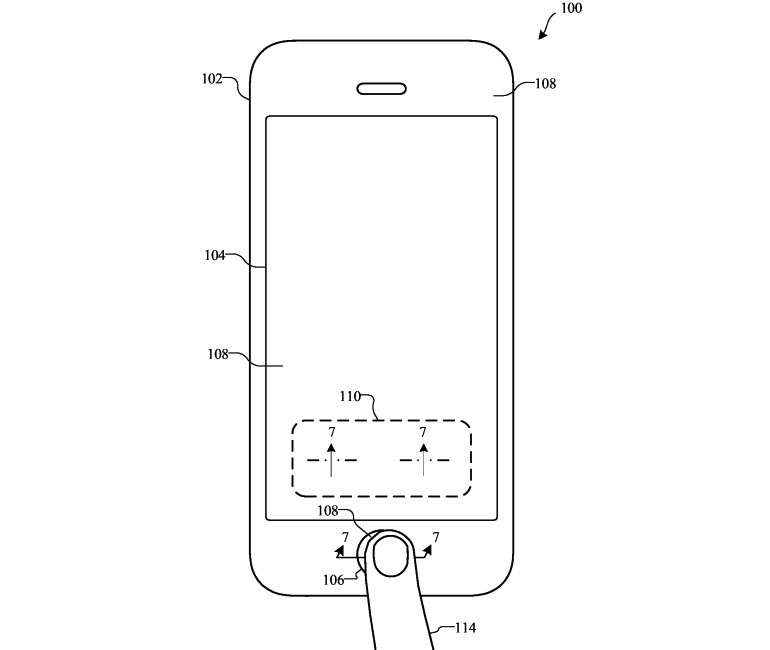 These transducers, which can be placed under/in an iPhone's display or an area of a display, produce a sound wave pulse in response to an electrical stimulus. These waves would reflect off the input surface. Each fingerprint would create unique reflections, allowing the system to authenticate a user.
The obvious advantage of this tech is that it allows Apple to ditch the fingerprint sensor in the home button. One other benefit is that the method might be even more efficient than previous Touch ID iterations, and prevent failed reading attempts.
"The performance of some biometric sensing devices may be adversely affected by conditions unrelated to the biometric sensing device itself," Apple explains, including contaminants on a user's finger, or differences in pressure when touching a fingerprint reader. In other words, the new solution might read your fingerprint even if your hands are wet, or you're not pressing the Touch ID home button appropriately.
Even if the iPhone 8 is at least six months away, and we won't know for sure what user authentication methods Apple will equip in it, it's pretty clear that the iPhone maker is looking at different Touch ID fingerprint sensing solutions that would allow it to expand the size of the iPhone's display without losing this particular security feature.