With Apples iPhone 8 unveiling just about a month away, there's been a marked increase in the number of iPhone 8 leaks and rumors hitting the web. Though Apple does its best to keep a handle on product secrecy, there's only so much the company can do to prevent Foxconn employees from leaking out information.
That said, the latest iPhone 8 leak gives us a crisp and clear look at the device's front panel. As evidenced from the photos below, the front side of the iPhone is about to get a huge makeover. Whereas the current iPhone simply has a lone FaceTime camera on the front, you can see that the upcoming iPhone 8 design will incorporate a number of additional cameras and sensors. These, of course, will be used for the iPhone 8's new facial recognition scheme.
As you've likely heard by now, the iPhone 8 will do away with Touch ID and will instead rely on facial recognition for user identification. Interestingly, recent reports indicate that the iPhone 8's facial recognition feature will even be able to identify users when the device is laying flat on a table. Not only that, but infrared sensors will be able to identify users in low-light and even dark environments.
Further, data strings found in Apple's HomePod firmware indicate that iPhone 8's new facial recognition feature will be used as a means to authenticate Apple Pay transactions. For anyone worried about Touch ID going away, Apple's facial recognition technology — acquired from an Israeli company called Realface — is said to be incredibly sophisticated, reliable, and even capable of distinguishing between sets of identical twins.
The new iPhone 8 photos, courtesy of Slashleaks, can be seen below.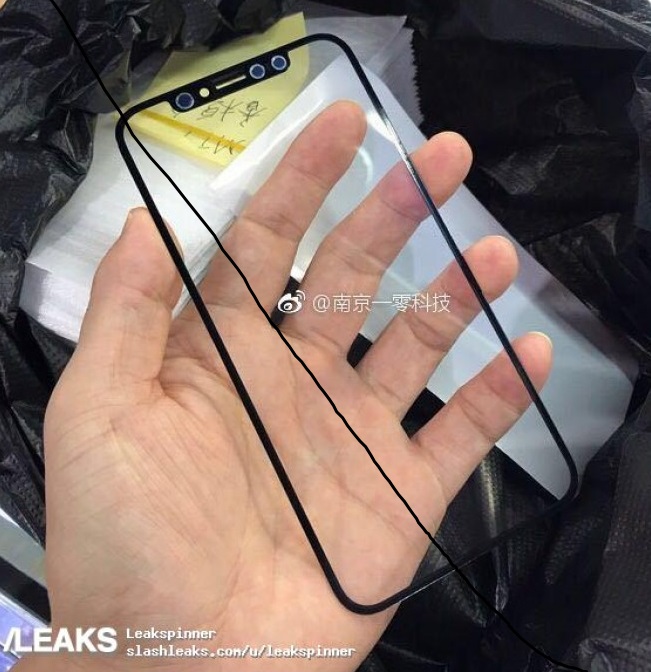 Also note how slim the iPhone 8 bezels will be, with previous reports claiming that the bezel will be just 4mm all around the device.
Lastly, it's worth noting that the FaceTime camera on the front of the iPhone 8 is also poised to see a huge upgrade. Over the weekend, developers found code in Apple's HomePod firmware indicating that the iPhone 8's front facing camera will be able to record 4K video at 60 frames per second.