iPhone 8 mockups are a dime a dozen these days, but a series of concept photos put out by Gabor Balogh earlier this year are unquestionably a step above the rest. While most iPhone 8 mockups simply show us what Apple's next-gen iPhone might look like from a hardware perspective, Balogh went the extra mile and put together a series of photos which illustrate how iOS 11's augmented reality features might look on the iPhone 8's edge to edge OLED display.
One of Balogh's more intriguing photos, which you may have seen floating around in recent months, provides us with an idea of how augmented reality can be used to vastly enhance and improve the mapping experience. In case you missed it, the photo in question can be seen below.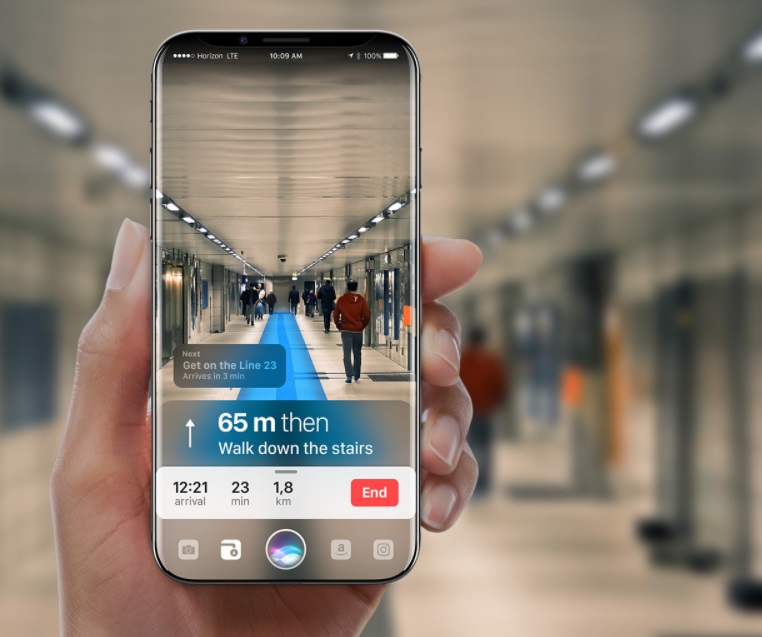 Mapping apps have undoubtedly improved by leaps and bounds over the last few years, but there are still instances when users get turned around and confused, even with directions at hand. Imagine, for example, that you're in a new city and find yourself at an unfamiliar intersection. If your mapping app tells you to turn west on 6th avenue and you have no idea where 6th avenue is or what direction west is even in, you're essentially forced to start walking and wait to be rerouted.
As illustrated above, adding augmented reality to the mapping experience can help alleviate this issue. And now that developers have had more than a month to play around with ARKit, it's starting to look like the mind blowing UI pictured above may become a reality once the iPhone 8 hits store shelves.
Over the past few days, developer Andrew Hart has posted a series of videos (via 9to5Mac) which showcase what iOS 11 is capable of when ARKit and CoreLocation join forces. It's not as elegant as the mockup above but it nonetheless demonstrates the same type of functionality. What's more, imagine what Apple Maps may look like once Apple designers put their magic touch on it.
ARKit + CoreLocation, part 2 pic.twitter.com/AyQiFyzlj3

— Andrew Hart (@AndrewProjDent) July 21, 2017
Another video from Hart also illustrates why Apple Maps on iOS 11 may actually leapfrog Google Maps.
ARKit + CoreLocation pic.twitter.com/nTdKyGrBmv

— Andrew Hart (@AndrewProjDent) July 17, 2017
All in all, Tim Cook's exuberance regarding augmented reality is starting to make a lot of sense.