In a bizarre turn of events, firmware from Apple's forthcoming HomePod speaker has provided us with more concrete information about the iPhone 8 than any other source to date. Ever since Apple released the firmware a few days ago — an embarrassing mistake to say the least — developers have managed to glean all sorts of interesting information regarding the company's next-gen iPhone. Over the last few days alone, we've seen evidence pointing to the iPhone 8's final form factor along with information regarding the device's advanced facial recognition features.
The latest iPhone 8 tidbit to emerge from Apple's firmware blunder reveals that the iPhone 8 will incorporate a front-facing 4K camera capable of capturing video at 60 frames per second. Additionally, the iPhone 8's rear-facing camera will be able to record 4K video content at 60 frames per second as well.
This intriguing nugget of information was originally unearthed by the Brazilian website iHelp BR late yesterday evening, with the pertinent data strings pictured below.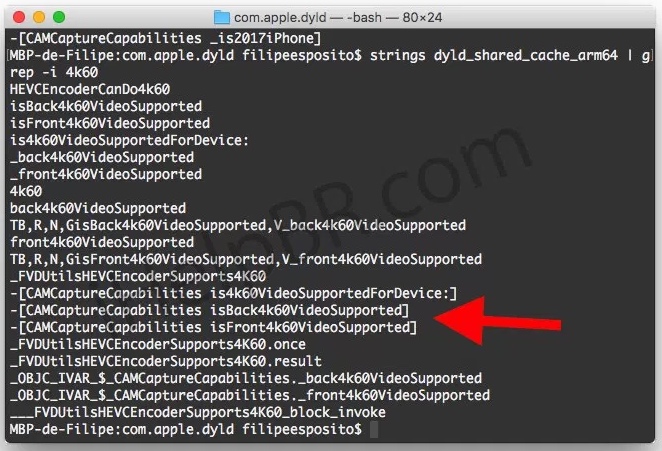 As it stands now, the FaceTime HD Camera on the front of the iPhone 7 can record video in 1080p. The rear-facing camera, meanwhile, can record 4K video at 30 frames per second. All told, the cameras on the iPhone 8 will be markedly superior to what the iPhone 7 brings to the table.
If you look closely at the photo above, you'll also notice a reference to Apple's new video format — HEVC (High Efficiency Video Codec). As Apple executive Craig Federighi boasted during the company's WWDC keynote this past June, Apple's new video and image codes are designed to deliver distinctly improved compression without seeing any degradation in video or image quality. That said, video quality on the iPhone 8 promises to be absolutely jaw-dropping without eating up an inordinate amount of storage in the process.