In less than a week, Apple will hold its annual September media event where the star of the show is always the newest iPhone. The iPhone 7 and iPhone 7 Plus are going to be unveiled on September 7th, and we already think we know practically everything there is to know about these devices. Now, a fresh new leak seems to put to rest any doubt that Apple is giving us the upgrade we've been waiting for on its new iPhone 7 and iPhone 7 Plus.
DON'T MISS: Working iPhone 7 Plus captured on video for the first time
Earlier this week, an image allegedly showing the text that goes on the iPhone retail box revealed that the iPhone 7 Plus would have up to 256GB of storage, suggesting that the expected memory upgrade we've heard so much about is real. Furthermore, the leaked document also says that Apple will include Lightning EarPods in the box, which means that the 3.5mm headphone jack is definitely going away. Finally, the text contains a little great surprise: A Lightning-to-3.5mm jack adaptor will be also found in the box, free of charge.
A different source posted a similar picture, discovered by TechTastic: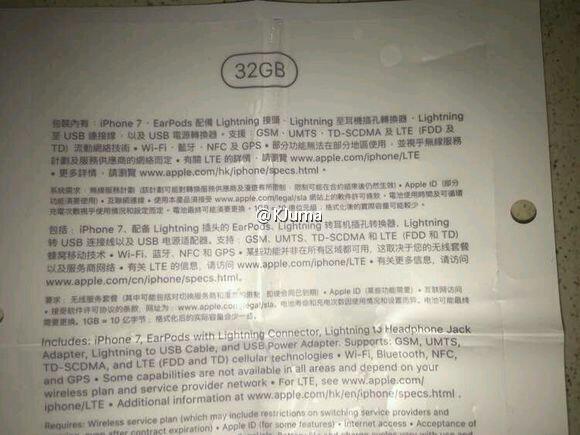 This time around, we're looking at the text for a 32GB iPhone 7 that will be sold in Hong Kong. It too will ship with Lightning headphones and an adaptor in the box. Again, this is great news for anyone looking to buy a new iPhone this year, as it seems to confirm that Apple will fix its iPhone storage problem and address any headphone jack-related criticism right out of the box.
Earlier this week, an iPhone 7 prototype packaging also suggested the phone will be available in a 32GB version. Of course, these photographed pieces of paper could be fakes meant to generate buzz ahead of the iPhone 7 announcement. We've seen similar leaks in the past ahead of new iPhone releases though, so there's a good chance these are real.
Apple's new iPhone 7 and iPhone 7 Plus will reportedly go on sale on September 16th following a week of preorders that begins on September 9th.