Even though Apple would prefer to own the smartphone market outright, the existence and popularity of Android has positively impacted the iPhone by forcing Apple to deliver new innovations each and every year. Especially in the camera space, Apple has spent a great deal of time and money ensuring that the camera technology and performance packed into each successive iPhone model is best in class.
One of the more compelling camera innovations Apple delivered last year was a new Portrait Mode feature available exclusively on the iPhone 7 Plus. With two 12 megapixel sensors — one a wide angle lens and the other a telephoto lens — the iPhone 7 Plus can deliver a "bokeh" effect similar to what one might see on high-end DSLR cameras. Specifically, Portrait Mode uses advanced software that artificially blurs the background of a photo while simultaneously bringing the main subject of a photo into much sharper focus. The end result, as Apple has not been shy to boast, is jaw-dropping.
Not to be outdone, Google's flagship Pixel smartphone attempts to deliver a similar effect with a camera feature it calls "lens blur", though the implementation isn't exactly the same as what Apple is doing on the iPhone 7 Plus.
In any event, PhoneArena recently decided to pit the iPhone 7 Plus against the Google Pixel in a battle to see which device can offer up the best bokeh effect photos. Not to spoil anything, but the competition isn't even close. While the Pixel can hold its own in some shooting situations, the iPhone 7 Plus delivered more compelling shots most of the time, as evidenced by the photo comparison below. You can check out even more examples of the iPhone 7 Plus vs Google Pixel photo standoff via the link above.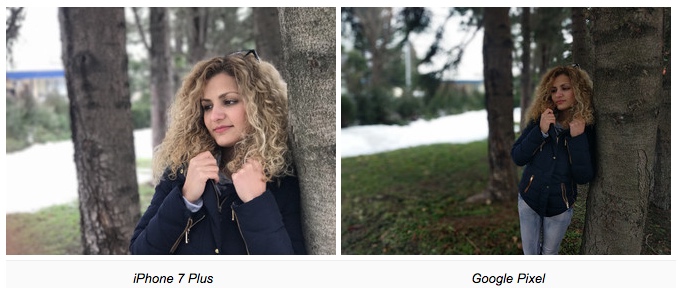 Interestingly enough, though perhaps not all that surprising, the iPhone 7 Plus' camera proved to be such a hit with consumers that early demand exceeded even Apple's own optimistic expectations.
Unfortunately, rumor has it that the Portrait Mode feature will remain exclusive to the 5.5-inch form factor and won't be available on Apple's 4.7-inch iPhone 8.