One of the bigger design changes Apple introduced with the iPhone 7 was a completely redesigned home button. Whereas previous iPhone home buttons were strictly mechanical, the iPhone 7 utilizes a static button that when pressed, triggers haptic feedback via Apple's Taptic Engine. While not as seamless as the trackpad on Apple's MacBook, the implementation nonetheless does a decent job of giving users the illusion that the home button is mechanical.
DON'T MISS: Review: What it's like to use the most innovative laptop of 2016
In the scenario that the iPhone 7's home button malfunctions, Apple has designed a clever software solution to help users operate their device until they can get it serviced. Originally posted on a MacRumors forum thread, a commenter with the handle iwayne uploaded a photo which showcases a virtual home button which appears when the software controlling the functionality of the home button begins to go haywire.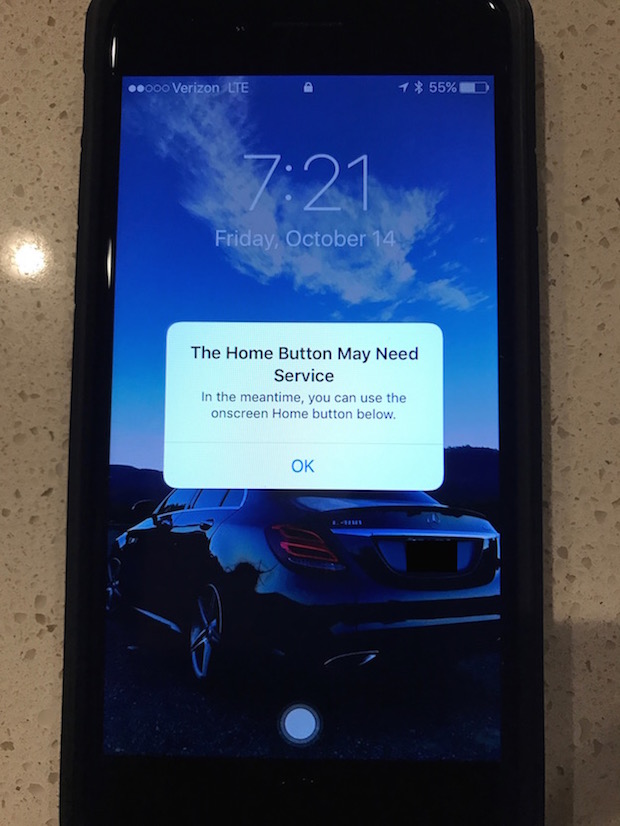 According iwayne, the iPhone 7 in question was restarted and began acting up without an obvious fix in sight.
"The Haptic engine kept firing 3-4 times in a row for every "press", iwayne explained. "I restarted again and it's back to not working." Eventually, the warning message above appeared.
Interestingly, with rumors swirling that Apple may ditch the home button altogether with the iPhone 8, some have taken the above image as a preview of what Apple may have in store for us once it rolls out its next-gen iPhone, a device said to sport a radical new redesign in which the entire front of the device is a display. In turn, it's believed that the home button, earpiece, ambient light sensor and video camera will all, somehow, be embedded beneath the display itself.
While it may all sound a bit far-fetched at first, Apple recently received a patent for embedding light sensors directly onto a smartphone display in such a way as to not affect the "functionality of either the touchscreen or the sensor itself." With all this in mind, the nifty on-screen home button discovered on the iPhone 7 might very well be our first look at what it'll be like to use next year's iPhone 8.