Well, that didn't take long. Apple usually releases its iOS public beta versions one day after the latest beta is seeded to developers. On Monday, iOS 10 beta 5 came out and now early on Tuesday morning, Apple made iOS 10 public beta 4 available to all users currently registered in the company's public beta program.
DON'T MISS: Google's new Nexus phones will be just as fast as the Galaxy Note 7
iOS 10 public beta 4 offers the exact same features as iOS 10 beta 5, even if the numbers don't coincide.
Installing it is quite simple. If you're already on the public beta release of iOS 10, just head to the Settings app, and go to Software Update under General. The update should appear on your iOS device's screen just like any other regular update. Then you can simply follow the steps on the screen to install it.
If you're not enrolled in the public beta, you need to get access by going to beta.apple.com and signing up with your Apple ID. Then download the profile on your iPhone or iPad by following the instructions on the screen, and go to Settings again to find your iOS 10 public beta 4 update.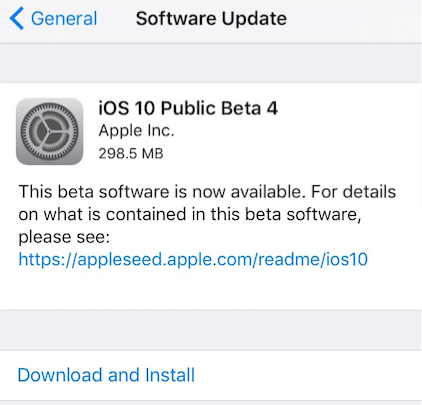 On an iPhone 6s, the update measures less than 300MB so it'll be a quick download. Just make sure your device is connected to a wireless network and has more than 50% battery life to perform the over-the-air update.
At any time during the public beta period, you can revert to the latest version of iOS 9.3.x if you're not happy with it. The final version of iOS 10 should be released at some point in September after Apple unveils the iPhone 7.